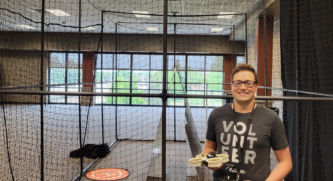 At Plains Commerce Bank, empowering their people by finding ways to effect change is one of their five Core Values. In doing so, each year Plains Commerce Bank employees receive paid hours specifically set aside for volunteering in an effort to prioritize giving back to the community. Those eight hours can be used assisting at a charity, event, or organization of their choice, whether it be helping at the Humane Society, serving food at the Banquet—or, cool enough, teaching kids to fly drones.
Jacob Hageman, Business Intelligence Specialist in Watertown, first took an interest in drones when he bought one off-the-shelf and was immediately fascinated by the technology. From there, he got himself a nicer model and signed up for recreational classes at Lake Area Technical Institute, where he not only learned how to fly and program but also received his drone license. Lake Area Tech took notice of his enthusiasm and reached out to see if he'd be willing to volunteer to help at their youth Drone and Coding camp, and Jacob jumped at the opportunity.
"The hands-on experience was the biggest benefit for the campers," Hageman remarks. The kids had lectures to attend, but practice came right along with them. "The campers got to have fun by building their own micro quads, work with professional drones used in mapping and photography, and fly around the campus through an obstacle course." Around 80 kids, third through eighth grade attended the camp, and Hageman noticed how quickly they got the hang of it. "Most of the kids only needed to see how things worked once, or just figured it out as the camp went along."
Although drones may seem like a niche subject to host a camp based on, Hageman is a testament to the practical careers and services that can be offered with a drone license. Plains Commerce Bank has a drone program that assists their lenders with collateral inspections, which is offered by a team of Part 107 individuals, including Hageman. Businesses are increasingly relying on drones for marketing footage, land assessment, and safety, so learning those skills young provides a head start in the campers' careers.
This article was published in the July 2023 issue of SD Banker Magazine.