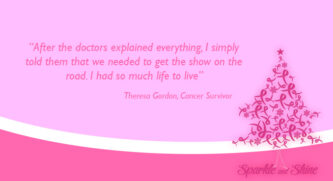 One out of eight.* The statistic is paralyzing to women of all ages, races and backgrounds. Breast cancer is one of the most common cancers among women affecting millions of families each year all yearning for one goal: A cure. And with breast cancer affecting many of our employees at Plains Commerce Bank, supporting the Feisty Fighters in their annual fundraising event, Sparkle and Shine, was a no-brainer.
But we didn't stop there. We wanted to reach out to our own feisty survivors, offering our customers and friends a chance to win a day of pampering on us. Theresa Gordon, winner of our Sparkle and Shine Spa Sweepstakes was given just that. Theresa and her friend Cheryl, who happens to be a feisty survivor as well, were treated to the Sparkle and Shine event along with a day of indulgence at Southeastern Hair Design and Day Spa. "Supporting breast cancer with an event like this gets awareness out there, plus it benefits those in need," remarked Theresa.
With a mother and sister who have been diagnosed, Theresa knows firsthand just how life-changing a breast cancer diagnosis can be. Because of her family history, Theresa started doing self-exams, which is how she first discovered something out of the ordinary. Diagnosed at the age of 38, Theresa recalls the flood of emotions that followed hearing the words "breast cancer"; from being scared to unsure to feeling like her life was out of her control.
Theresa recalls, "After the doctors explained everything, I simply told them that we needed to get the show on the road. I had so much life to live."

Theresa has been through radiation and chemotherapy. Knowing that one day she would be in remission kept her positive about the whole situation. And in 2010, after battling for ten years, she was given the good word that she was indeed in remission. "I have always been a positive person and live life to the fullest. I truly believe this helps one make it through something like this. God, prayers, my family and a good sense of humor."
Just months shy of being a 15 year cancer survivor, Theresa offers advice for those currently battling breast cancer: "Take a deep breath and don't think of this as a death sentence. Love and live life to the fullest everyday as no one knows what the next minute, hour or day will bring."
*http://www.nationalbreastcancer.org/breast-cancer-facts