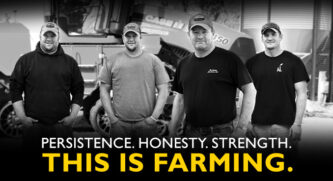 As we stand on the Sombke farm where Doug was raised and where his son Brett and his family currently call home, Doug is reminded again why he started farming so many years ago. "I remember mornings like this. Coming out and looking into the hills and thinking to myself, not everyone gets a view like this. And that for me was a defining moment in my life."
When the opportunity arose to purchase a few acres near his home over 37 years ago, Doug couldn't resist. Ultimately, this is what started his lifelong commitment to farming and his children's futures. Though land was cheaper back then, Doug had a difficult time finding a customized loan for his operation. "Interest rates were high and honestly, there were not a lot of young people who were interested in farming. I went to a local organization who offered me a loan for an extravagant amount but all I needed was enough to purchase two quarters of land," remarks Doug. Due to the lack of financing options available, Doug wrote to then South Dakota Senator Larry Pressler and received an immediate response and a the loan for exactly what he wanted to do. Looking back, Doug laughs and says this is what eventually launched his political career. Currently and for the past 10 years, Doug has served as the President of the South Dakota Farmers Union.
If you hail from Conde, Turton, Ferney or even the Groton area, chances are you know Doug or one of his boys. Not only were they raised as hard-working, get your hands dirty farm boys, they were raised to be thinkers, planners, and doers. Farming is a tough business and the Sombkes have been through it all. They have persevered through the hard times while enjoying yet constantly thinking about the future during the good times. The forethought that Brett, Bryce, and Bryan have is something you cannot teach. They are brothers, they are farmers, and they are businessmen, but they are also entrepreneurs. Brett owns and operates a soil sampling business while Bryce and Bryan together run a hunting lodge and raise champion hunting dogs. "That's all part of being a farmer. You have to think about the future. You have to have a plan in place in case things don't work out. We have to continue to focus on using our talents and sharing those talents. I'm not the one doing the dirty work anymore. Now I'm their cheerleader and the positive thinker. I'm here to encourage them just like my mom did when I first started in the business," says Doug.
"When it comes down to it, all of our businesses are built upon relationships. And that's how we got started with Plains Commerce Bank. We formed an instant friendship with Jeff in Conde and all of our businesses followed," remembers Doug. Relationship based banking is what we have focused on for the last 84 years. We want our customers to feel like friends and family. That along with open an honest communication is what we try to accomplish when every relationship we form.