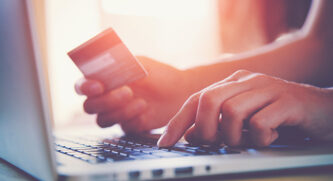 You know it as well as we do: More and more aspects of our daily lives are "going digital." The good news? Life has gotten easier and more efficient because of it.
At Plains Commerce Bank, we strive to provide you with the smoothest banking experience possible. That's why online banking has always been a top priority—and why we're updating our enrollment process. In this article we'll break down the changes for you.
Two Simple Options
Online banking at Plains Commerce Bank falls into two categories: Personal and Business. Personal online banking is referred to as Online Essentials, while Business online banking is Online Solutions.
Both offer innovative yet easy-to-use services for all your banking needs. But which one is right for you? It all depends on what those needs are.
Online Essentials = Personal Online Banking
Online Essentials is for anyone wanting quick access to their accounts through digital channels: individuals, home owners, Certificate of Deposit and checking customers, small businesses, trusts and organizations. Here are a few more specs:
Single user
Self-enrollment with immediate access to your account(s)
Personalized Services

Bill Pay
Transfers
e-Statements
Mobile app
Mobile deposit

Email or text alerts about account activity
Free of charge
Online Essentials offers you the security and convenience of banking on the go—any place, any time. If that sounds like you, learn more about Online Essentials or go ahead and sign up for an account now. You can also reach out to our Personal Banking Team with any questions.
Online Solutions = Business Online Banking
Online Solutions is for anyone needing more sophisticated cash-flow management through digital channels: businesses large and small, property owners, trustees, churches, non-profits, etc. Online Solutions offers the following innovative services:
Multi-user with user specific authority levels
Banker-enrollment with a 4-5 day install
Username, multi-layer authentication, token protected accounts
Advanced Services

ACH payables and receivables

Mobile app with mobile deposit and transaction approvals

Low monthly fee
At bottom, Online Solutions exists to help your business succeed by simplifying how you manage your money. Interested? Read more about Plains Commerce business banking online. Please contact our Business Banking Team with any related questions or to begin the enrollment process today. We're happy to help!
Some Things Never Change
We've updated our online services to streamline and simplify the banking experience for all our customers. And that's something that will never change—our commitment to personal, community-focused banking.
Please contact us with any questions, comments, or concerns. Here's to better online banking!