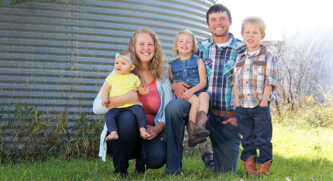 National Ag Day is a celebration recognizing the many farmers who contribute to agriculture and what the agricultural industry has done for our nation. At Plains Commerce Bank, we appreciate our relationships in the Dakotas and the contribution of agriculture to our lives. Farming is undoubtedly one of the most unpredictable and difficult professions, and we're proud to stand by and help producers succeed.
Sioux Falls Business Banker Rocky Boer says, "One of the things I enjoy most about the job I do is taking the time to get out and see the operations personally; from spending time in the combine to walking the fields with our farmers to simply just sitting on the front porch with them and visiting about their lives, their concerns or fears they may have."
"I get to eat a lot of good cookies, and a lot of good brownies and a lot of good pieces of pie," says Rocky.
Our ag producers mean the world to us and their continued success throughout generations inspires us to do what we love. The Huber Family Farm is a true testament to the dedication and success of the American Farmer. In 2009 Brett Huber joined his father, Tim, in the family farming operation. Tim had been running the family operation for over 30 years.
"I knew it was something we always wanted to do. To come back here, farm and raise a family," Brett stated.
Family operations are at the heart of the Dakotas and have brought many young farmers back to the industry. Whether you've been in the industry for 5 years or agriculture has been your lifelong career, we thank you for your dedication and hard work. With South Dakota as one of the nation's top friendly agribusiness states, we're proud to support the future of agriculture and call these people our friends.
Everything we eat, wear, and use has its roots in agriculture, so take a moment to thank the farmers and ranchers today