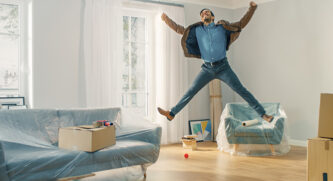 Some of the most common "big life decisions" we make are often going to college, getting married, having children, and buying a house.
What these milestones have in common is that they are all huge financial and emotional investments. While we won't be much help for you in deciding if you're prepared for a visit from the stork, our mortgage experts can certainly help you prepare your finances for buying a home in the near future.
Our first piece of advice in finding out how much home you can afford would be to reach out to our mortgage bankers. But we also believe there are a handful of actions you can take to improve your chances of landing a great, low-interest loan and get you in that house before you know it.
How ready are you?
First off, how do you know you're really ready to purchase a home? You should be able to answer "yes" to the following statements:
I have enough saved for a down payment
My credit score is great and I've started a savings account
I know what kind of house I can afford and it suits my needs and lifestyle
At this point in my life, I am better off owning than renting
If you answered "yes" to all the statements above, then you are well on your way to unlocking the door to your new home. But if you answered "no" or "not sure" to any of the above, here's some advice on each that can prep you and your finances for a future homeownership.
How to save for a down payment
In general, saving isn't very easy for anyone. From student loans to credit card and car debt to daily expenses like groceries, gas, and daycare, putting away pennies can be a challenge. But we're here to help.
"If you are concerned about that down payment, Plains Commerce offers down payment assistance as well as many programs that require little or no down payment. When you work with us, we look at all of these options and find the best ones for you," remarks Dawn Van Nieuwenhuyzen, Senior Mortgage Banker.
Some common ways to save money:
Set aside a fixed amount of money each paycheck and put it in a savings account with the stipulation that you cannot touch that money.
Skip this year's family getaway. Whether you fly south for spring break or you take a summer road trip, maybe a staycation is a more realistic vacation for you as you build the savings you need to afford a new home.
Get rid of "luxury" expenses. Sure, that monthly massage is part of your self-care routine, but think of it from a savings standpoint. Say your hour-long massage is $60, and you tip $10 a visit, that's $70 a month, or $840 in one year you could stash away into your house fund.
Reduce or eliminate your auto-renew accounts and subscriptions. Sometimes we forget we even signed up for digital magazine subscriptions or health-focused apps on our phones. Check your bank statements for recurring payments, then open your phone or computer settings to check off the auto-paying subscriptions you don't use or can live without.
Bottom line: Talk to us right away so you can prepare. We'll let you know how much (if any) down payment is needed, then we'll strategize to get you there.
How to improve your credit score
Although everyone's situation is unique to them, even if your credit and/or credit scores are an issue, we can guide you to a solution.
Tips:
The key is an early start for a successful solution.
Keep your balances as low as possible. Try saving your credit cards for real emergencies instead of those impulse buys.
Don't close unused credit accounts. It may seem counterintuitive, but even if you have many open accounts, those with a zero balance work to your advantage more than having a few accounts open with active balances you're paying off.
Bottom line: It's OK to have credit cards and debt. In fact, it's healthy to owe a little as long as you are paying down balances regularly and on time.
How to know what kind of house you can afford and if it suits your needs and lifestyle
The obvious answer to knowing what kind of house you can afford is to compare your savings and debt-to-income ratio to the cost of a particular house.
If you're shooting for a 6-bedroom, 3-bathroom house, but your bank accounts are telling you that a modest ranch-style home in a safe neighborhood is more at your cost level, choose the latter.
Also keep in mind your lifestyle. If you have children, maybe you can settle on a ranch-style home with smaller bedrooms but you get a really big fenced-in yard.
Bottom line: Don't become "house poor" because you bought beyond your means.
How to know if you're better off owning versus renting
As a first-time homebuyer, you've likely been renting for a while now. The benefits you have as a renter, like having repairs and lawn care taken care of for you, will be responsibilities you will have to–and want to–take on as an owner of a home.
When you're prepared to pay for more expensive home repairs, such as new furnaces and water heaters (FYI: these things don't last forever), new siding and roofing, basement waterproofing, among many others, this is a good indicator you're ready for your house.
Bottom line: There are pros and cons to renting versus owning. Be sure you're ready to take on a little more responsibility with your new home and understand owning a nest of your own requires a nest egg to maintain.
Looking for more?
The best way to get the right answers and insights is to connect with a mortgage banker in your area. Many first-time homebuyers choose our experts because we understand the ins and outs of the local market better than anyone. You can also get a broader view with our online mortgage calculators.
"When you are informed, things become a lot less scary. Our clients love the clarity we provide to you through the home buying journey," says Van Nieuwenhuyzen.
Find a Plains Commerce Bank Mortgage Expert
*All credit and loan products are subject to credit approval.