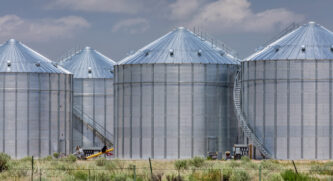 The USDA's Economic Research Service predicted that the U.S. net farm income would decrease 38% year over year by the end of 2015. Farm wealth was also expected to drop 3% by the end of 2015. What does this mean for farmers throughout the nation?
Financially speaking, 2016 may be a more difficult year for farmers, according to the Congressional Research Service U.S. Farm Income Outlook for 2015 report. The level of difficulty will depend on the farm's location and what it's growing or raising, as many commodity prices are expected to drop this year. On the upside, farm household incomes are still above the U.S. average household income. In fact, they were 74% higher in 2014, according to the same report.
Even though these are predictions and we hope for the best for our farm families, farms need to plan for another year of lower net income. A careful evaluation of your farm's financial health, income, and spending will better prepare you to manage debt and keep farming practices sustainable.
Our own Plains Commerce Bank Ag Banker, Roger DeRouchey, has a few tips to help you stay financially sharp during the 2016 season.
Slow down your spending.
While this is always easier said than done, spending less may be crucial in 2016. You want to stretch out your 2016 line of credit as much as possible and not overextend it.
A farm line of credit can help you manage expenses until harvest season (or if you store crops or raise livestock, until you decide to sell). Just remember that every bit you pull from your line of credit has an interest amount associated with it. When going through your books, ask if the potential expense is necessary or if it can wait.
If you foresee the need to make a major purchase, like replacing a large piece of farming equipment, make repairs or see if it will hold out another year. As long as it's not slowing your production or going to cost a significant amount of money to repair, it may be worth avoiding taking out a large loan right now.
Check around for your input prices.
Do your due diligence up front by shopping around for your input prices like seeds or feed. Comparing prices can help you save money on fixed expenses. In most communities, there is a private business that competes with the cooperative, which can drive down prices and get you a deal.
Even if you've utilized the same resource for quite some time, it may be worth investigating alternative options. Your feed, seed, fertilizers, pesticides, machinery, and more can vary in price from one vendor to another.
Help out a neighbor in need.
Relationships can go a long way in the farming community. While you cannot always expect favors to be returned, you can start strengthening your relationship with the farmers around you. If they find themselves in a crunch for time, offer your assistance if you can. Then, someday if you have machinery that breaks down or another unforeseen challenge occurs, you may just have a neighbor come to your rescue.
Downtime can be costly. A friendly neighbor could save you a lot of headaches in the long run.
Talk to your ag banker.
If you have any lingering questions going into the 2016 season, talk with your ag banker. They have a wealth of knowledge they're willing to share. You just have to ask.
All of us at Plains Commerce Bank wish you and your operation a prosperous and safe 2016!