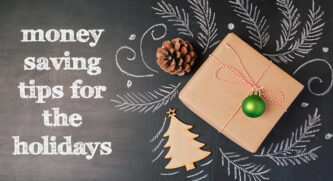 Holiday spending blindsides many people, but why? It's not because they didn't know Christmas was coming in December. For the most part, it's because they failed to plan.
Don't be a part of the 23% of Americans who don't pay off their holiday credit card debt until March or later. Instead, start the New Year off right by planning ahead. Having a plan in place will help reduce stress and make for a happier holiday season.
Pulling from their own experiences, Personal Banker Patty Klinkhammer and Retail Banker Linda Mueller of Plains Commerce Bank share some of their planning tips.
Tip #1: Adopt the "shop now, save now" strategy
Start stockpiling gifts earlier in the year. This may not be possible to do for every person on your list, but it will help you spread out your spending.
Another option is to take a little out of each paycheck and put it into a savings account. Put away $100, or another amount you're comfortable with, each pay period. You can have it automatically placed into a separate savings account, so your checking account will never miss it.
It's never too late to start planning. Start putting money aside now. If possible, be aggressive in the amount you set aside. Then, once you've saved up, stick to what's within your means.
Tip #2: After saving, spend only what you have
One way to stay within your means is to keep a list of each family member or friend you're buying for. Try to set limits for each person so you don't overspend.
If you have a credit card you'd like to use for rewards or security, you can still do that. Just pay off your entire bill with the money you saved up.
In addition to gifts, set aside extra money for groceries, travel, and dining out during the holiday season.
Tip #3: Shop sales, use coupons, or make gifts
Black Friday and Cyber Monday retailers promise consumers big bargains. But if you know what a person on your list wants, you can watch for sales throughout the year.
Many retailers offer gift card perks during the holidays (such as buy a $100 gift card and get an additional $20 gift card at no extra charge). If you see deals like this, buy gift cards, and then turn around and buy gifts. (Look, you just saved $20!)
If the person you're gifting to doesn't mind second-hand items, such as a like-new camera or video games, shop sites like Ebay for more savings. If you're shopping local (which is always a great way to support your local economy), subscribe to the store's email list to learn about upcoming sales.
If you're purchasing an expensive item, do your research. Take time to go online and do some price comparisons. It often pays to shop around as long as the item doesn't end up out-of-stock.
Making gifts can also be a way to save money and show you care. Be careful here, though. Making homemade candies, cookies, and crafts can add up after a while. If you take this route, create a gift-making budget and stick to it.
Tip #4: Watch out for scams
Saving and spending wisely won't do much good if you're the unfortunate victim of a scam. Watch your account balances carefully throughout the holiday season. Review your monthly statements in detail. While it's not fun to talk about, scams are very real and not always recognizable.
During the holiday season especially, if you find something that's too good to be true, it likely is too good to be true. If you have to send money back after selling something to a person on the Internet, be wary. Google the person's name or ask your personal banker if you are unsure. Do your research, and don't rush into a decision. Otherwise your personal information may end up being compromised.
Tip #5: Remember the reason for the season
If you are short on cash, find ways to show someone you care without going into debt. Remember the reason for the season. Dollars spent do not equal love. Be reasonable, keep organized, and enjoy this special time of year.
Looking to start a savings account?
Find a Plains Commerce Bank near you. Then stop by to open your savings account and start planning for the holidays today.