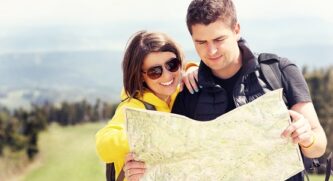 Maybe you've been there before—arranging a getaway with your friends, spouse, or family. With all the planning that goes into travel, it's easy to overlook budgets and get into financial trouble. Never fear, AVP/E-Services Administrator Jodie Kannas and AVP/Branch Manager Phil Bedinger have tips that will help you protect your money while vacationing.
Create a budget.
Just like any other major purchase, a vacation is easy to budget for if you plan ahead and begin saving for it in small increments. Start today by deciding where you want to go and what you want to do. Then search the internet to find out how much your vacation would cost if you were going to take it right now. Look for seasonal discounts, too.
If you are driving, use tools like Google Maps to find out how many miles your trip is so you can account for gas. If you don't know how much gas your car uses, fill the tank and record the odometer reading. Do the same thing a week later and divide the number of miles you drove by the amount of gas you used to figure out how much gas you'll need to buy on your trip. Give yourself a small cushion for unexpected expenses and you'll have your total.
Set up a savings plan.
Now decide how much you can save. Can you put away $100 per week? If your trip is going to cost $3,000 you'll have it saved up in 30 weeks. It's that easy!
At Plains Commerce Bank, we have the perfect vacation budgeting solutions. First, a savings account will help you separate your vacation funds from your daily expense funds. Second, online banking will allow you to watch your vacation savings grow. Finally, our credit card offers the security of paying for your vacation without carrying cash. You can pay it off from your savings when you get home.
Get in touch with your bank and credit card companies.
One of most common issues travelers run into is low card limits. If you want to increase your ATM or point-of-sale (POS) limit for large purchases while traveling, call the bank before you leave. Your maximum limits can always be returned to normal. Notify the bank if you are traveling outside of the Midwest (or your hometown) to avoid having your card frozen due to suspicious activity.
Plains Commerce Bank offers 24-hour online, mobile, and voice banking. You can monitor your transactions conveniently through your phone, tablet, or laptop. Before you leave, set up a low balance alert through online banking.
Have a backup plan in case your card is lost or stolen.
Before your trip begins, write down important bank and credit card numbers. Keep them separate from your cards.
If you find your card is missing, please call us. Plains Commerce Bank offers 24-hour fraud monitoring on your ATM checkcards. If a checkcard transaction is suspicious, the cardholder will receive a call, so ensure you have a current phone number listed on your account (preferably a cell number). If you cannot be reached, the card may be blocked to prevent unauthorized transactions.
You can also help prevent this from happening by watching out for pickpockets and carrying your valuables in zipped bags and pockets. Be sure to review your bank statements regularly, too.
Be wary of your most varied cost: food.
One of the easiest places to cut vacation costs is food. You can save money by only eating at restaurants occasionally. Many hotels offer complimentary breakfast. Or if your room has a refrigerator and microwave, you can go to the local supermarket and buy groceries for a lot less than it costs to dine out. If you're taking on a road trip, bring a cooler with you for on-the-go sandwiches and drinks.
Give your vehicle a tune-up.
Speaking of driving, make sure your car has fresh oil in the engine and properly inflated tires. Also, be sure to buy gas from major retailers before you leave for improved fuel economy! Every little bit counts.
Start saving today!
Need to set up a savings account for your next vacation? Our personal bankers can help. We'll help you choose a plan that's right for you.