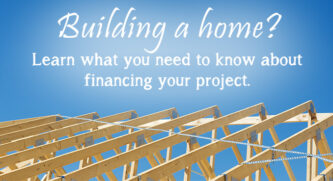 Have you searched for the right home but can't seem to find it? Are you thinking about building your next home? If so, you'll have to take out a new construction loan versus a conventional mortgage. While the processes are similar, financing a new build comes with certain requirements.
Mary Henning is a Plains Commerce Bank mortgage banker—has been specializing in home financing for over 22 years. She shares what you need to know to get the financing you want to build your dream home.
What's the difference between a mortgage and new construction loan?
To build a new home, Plains Commerce Bank requires borrowers to take out two loans—(1) a construction loan and (2) permanent financing when the home is complete. Once the bank knows the home is complete, they will request either a final inspection or a new appraisal depending on the time frame of the original appraisal. This is to verify that everything is complete per the original plans and specifications. The permanent financing is then put in place and the construction loan is paid in full.
What's the approval process like for a new construction loan?
The approval process for a new construction loan is similar to purchasing any home. With new construction, the bank will require all your plans and specifications to build the home. Then the bank will do an initial appraisal based on what you provide.
The bank highly recommends that you use a general contractor. However, if you have experience building a home, some banks, like Plains Commerce Bank, may agree to let you act as the general contractor. This is determined on a case-by-case basis.
What are the current interest rates for construction loans?
As of February 2016, our construction loan interest rates range from 5–5.50%. However, this could change at any time. The borrower is only required to pay interest monthly on the funds that have been disbursed from the construction loan.
Every construction loan is different. Typically, the general contractor determines how he or she wants to get paid—meaning whether the loan is disbursed in stages or as a lump sum.
Do new construction loans have any restrictions?
In general, Plains Commerce Bank sets up a construction loan for 12 months, although it is preferred that the build be complete in 4–6 months. This is typically enough time to complete a home.
In Watertown, South Dakota, the borrower pays a fee to the title company for the disbursement of the construction funds to the providers of service. By doing this, they secure the required signed lien waivers from all providers which are needed to show that all contractors have been paid. These are needed to insure the final title policy on the home.
What are the upsides of building a home?
Because you're the first occupant in the home, you're less likely to have unwelcome surprises left behind by previous homeowners. Plus, you'll be able to get the exact home you want.
What are the downsides of building a home?
One downside to building a home is you'll need two loans—one for the construction and then a permanent loan or mortgage, so you'll have closing costs twice. You'll also need to do your homework to choose the right general contractor and people to help you get the job done on time and on budget. Your new home should be well worth it in the end though.
How can a borrower increase their chances of obtaining a new construction loan?
If you have good credit and have enough funds to cover 20% of the project, you're in good shape. This is what the bank typically likes to see.
Have more questions on new construction loans?
Allow the mortgage bankers at Plains Commerce Bank to answer all of your home-buying and -building questions. Whether you get a loan from us or are shopping around, we're happy to help you make the right decision for you.
Rates subject to change at any time. All loans are subject to program and credit approval.