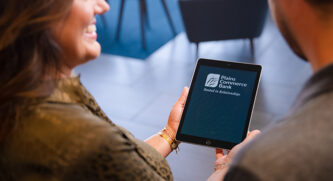 As a community-focused bank, we value strong relationships and the safety of our customers. You may be wondering about the impact online banking has had on our operations and security. We're confident that it has improved our ability to better serve you.

Online & Mobile Banking
As the banking industry has adapted to modern technologies, online and mobile banking options have created new opportunities for us to support customers from afar. Now you can bank from anywhere with your preferred device. Although, we'll always welcome visits to our locations of course.
The safety measures we've implemented allow you to use our Online Essentials services with confidence. Customers can protect themselves with multi-factor authentication and device recognition. Additionally, we're FDIC insured up to $250,000, so you can rest assured your hard-earned money is in good hands.
Online Banking Facts
At Plains Commerce Bank, we're here to answer your questions. Our team will provide the information you need so you can make informed decisions about your banking preferences. We've listed a few facts for your convenience.
Online Essentials options are secured with multiple barriers.

There are no fees associated with Online Essentials options.

Branchless banking is a fully digital option for convenience.

If you'd like to know more, feel free to visit with any of our personal bankers. They're excellent at providing clear explanations to improve your experience.
Community-Focused Banking
Our people are the best in the banking business. With an emphasis on community-focused banking, we'll get to know you. The personalization we put into every process is apparent, even online.
While some banks aim to go global with online services, our approach is to better serve local communities. We'll still be right here, but we'll be accessible everywhere.
"I've banked here for 30 years now. Many things have changed over the years, but one thing has not: the commitment my bank has towards me and my business."
-Harvey Remily
Whether you choose to bank online or in person, you can count on us. Technology will change, but one thing that won't is our commitment to you. We'll continue to identify useful tools to improve your banking experience.
Online/mobile banking is subject to additional terms and conditions and/or fees including internet and data charges. Certain products may be subject to additional terms and conditions/requirements.