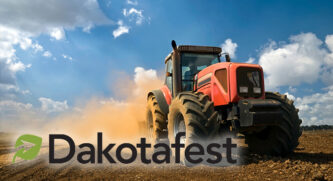 As an agricultural event that links our local producers to industry leading manufactures, Dakotafest is one of the premier summer agricultural events hosted in South Dakota. Held every year mid-August in Mitchell, SD, Dakotafest provides both exhibitors and patrons with products and services to meet their agricultural needs for the upcoming year. Boasting 500 plus exhibitors and over 30,000 attendees, the crowds and displays continue to grow year after year.
Farming has advanced light years through technology. From state of the art cattle barns to keep cattle comfortable during all seasons to tractors using GPS and combines getting more precise, Dakotafest is the place we see new and improved ways to make farming better and more efficient.
Not only does Dakotafest host a wide variety of vendors from around the tri-state area, but it also hosts special informational sessions about hot topics in agriculture. This year, visitors were able to attend educational sessions that ranged from current growing conditions to precision ag technology to tax savings for farm families. Senator John Thune, Representative Kristi Noem, and Secretary of Agriculture Lucas Lentsch were in attendance this year. Each walked the grounds to talk with local vendors and customers alike about current issues that are directly affecting South Dakota.
With the recent expansion of our Mitchell branch from a loan production office to a full service bank, Roger DeRouchey, Ag Banker, was highly anticipating Dakotafest this year. "Dakotafest has a huge impact on Mitchell and the economy here. I remember the first year when there were 150 exhibitors and this year we saw around 550. This was a big year as we celebrated the 20th anniversary of Dakotafest. I look forward to participating each year as it gives me the opportunity to visit with farmers and ranchers who I may not have seen in a while." DeRouchey is a retired teacher from Mitchell Technical Institute and Dakotafest also offers him the opportunity to visit with his former students.
Like DeRouchey, Plains Commerce Bank ag bankers from across the state look forward to attending this event each year. "Helping at Dakotafest provides our bankers the opportunity to meet with producers during their busy season and learn more about how we can fulfill their financing needs," says Kay Kaup, VP/Business Banker who traveled from Hoven, SD to attend the event.
With an agricultural-focus stemming from the 1930s, Plains Commerce Bank has always been passionate about ensuring our staff has the opportunity to keep an eye on current ag trends and future ag practices; and our involvement at Dakotafest allows us to do just that.