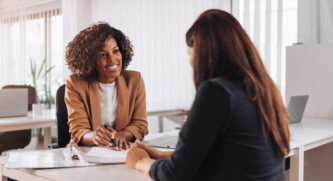 A Fresh Start
A lot has changed in the last year. Maybe you're ready to explore a new career path. Maybe you're searching for your first career out of college. No surprise, but we think the banking industry is a great place to work. In this post we'll explain why you might consider joining us at Plains Commerce Bank, no matter where you're at on your professional path.
Inside Perspectives
We asked a few team members why they chose to work in banking—and specifically what they love about PCB. We hope it helps you imagine what your career in banking could look like.
1. How would you describe a career in banking?
"Banking is a profession that offers a huge variety of opportunities—from Retail and Business Banking, to Trust, Mortgage, Operations, Administration, and many other exciting fields. It also offers the possibility of early responsibility, rapid career progression, and excellent pay and benefits. For those willing to accept the challenge, the rewards can be significant."
2. What makes PCB unique as a workplace?
"We truly care about our employees, our communities, and the customers we serve. Through the United Way donation program, our employees have a greater chance to give back to our community. We encourage our employees to take time for themselves and offer a unique opportunity for an amazing work and life balance."
3. What are the primary sorts of jobs/titles in banking?
There are a number of different avenues that people can take if they choose a career in banking. Here are the main ones:
Retail Banking (Tellers, Teller Supervisors, Personal Bankers, Consumer Branch Managers)
Business or Agricultural Bankers work with commercial customers or family farm/agri-business groups
Ancillary groups such as Credit Cards or Wealth Management
Operations roles in banking (IT, Deposit/Loan Operations, Audit, Compliance, Quality Control)
Administration (Finance, Accounting, Human Resources, Credit Administration, and customer support roles)
Mortgage Division (including Mortgage Bankers, Underwriters, Loan Partners, Closers, Funders, In-House Lending, Secondary Market, and more)
4. Why should young professionals consider a career in banking, and PCB specifically?
"PCB encourages growth and offers ample promotional opportunities by applying internally for open positions, in addition to having an amazing team of knowledgeable supervisors and managers who are willing to mentor career-driven prospects.
We are looking for individuals seeking growth and challenges, are well organized, have strong computer skills, good communication skills and are excellent at dealing with people."
Because we're a community bank, we focus on local organizations and businesses, meaning you'll see the impact you are making in your neighborhood. Donating to local causes and volunteer, we prioritize the neighborhoods we serve. Our team cultivates a welcoming environment that emphasizes the importance of family, a unique aspect in our industry. You'll feel right at home here.
We Want to Hear from You
Interested in learning more? Check out our current job listings at a variety of our locations in the Midwest. And feel free to reach out to our HR team, who helped us create this article:
Connie Schweitzer, Human Resources Generalist/Officer
Laurie Hadrick, Human Resources Specialist
Lance Hubert, HR Technology Specialist
Lon Clemensen, EVP Human Resources
Plains Commerce Bank is an equal opportunity employer​​.