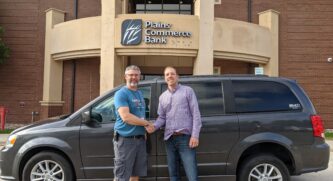 As a community bank, we believe in giving back to the communities in which we serve. Because these are our communities, too. And we care about helping them grow.
Plains Commerce Bank of Sioux Falls recently donated a van to Game Plan 4 Hope, an organization that assists families who are going through a life-changing event. We're excited that we were able to connect with their organization and work together to serve our communities.
Sioux Falls EVP/Branch Manager Jason Appel and Game Plan 4 Hope Director Missy Bass share what this donation means to us both.
Why is Game Plan 4 Hope an organization that the bank has chosen to support? This was a unique situation where we had a mobility van that we determined we would donate to a great cause, Jason said. I wasn't aware of Missy's organization when we began talking to our friends in the community about our desire to donate the van, but quickly gained an appreciation for the work that Game Plan 4 Hope does to support families with critical and unexpected needs.
What will the van be used for? We let the families who need a handicap-accessible van use it prior to purchasing one of their own since it is a very big decision, not to mention costly, Missy said. A person who is newly injured may not know the extent of their injury, thus they don't want to make the purchase of a van if they don't need one long-term. Some families just need extra time to determine what kind of a vehicle they will need based on the level of accessibility needed, while some families just need to take their parents to a doctor's appointment and need a handicap-accessible vehicle for that day. These are just some examples!
What does this donation mean for the bank? We have great respect for how Game Plan 4 Hope thrives when the unexpected happens, Jason says. They step in to lead in times of uncertainty, and that's where our values align the most. Sometimes we lead through donations of bank resources, and sometimes we are just the steady hand that helps our customers or our communities through difficult times or uncharted territory. We really appreciate the impact that Game Plan 4 Hope has on these families who are facing great challenges.
What values do Plains Commerce Bank and Game Plan 4 Hope share? It boils down to helping people who need our help, Missy says. I believe Plains Commerce Bank and Game Plan 4 Hope both share this value which is so very important in our society today.
Does the bank partner with other nonprofits? We have some great partnerships built with many nonprofits in the communities we serve and are so grateful for the chance to get to know more about Game Plan 4 Hope and their mission, Jason said. We are always looking to meet people and organizations in our communities that share our values, as that is the best foundation for building lifelong and life-changing relationships.