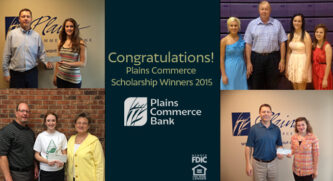 Plains Commerce Bank is proud to announce the awarding of scholarships to high school students pursuing post-secondary education in four of their locations. Each year, Plains Commerce Bank partners with the South Dakota Bankers Association to match funds for graduating seniors to financially assist in their higher education goals. Plains Commerce Bank also awards two memorial scholarships in our Hoven, SD location.
While the cost of tuition seems to be following a similar trend of continually increasing year after year, scholarships are becoming more important than ever before. We are fortunate as a bank to be able to award $6500 in scholarships to our recipients.
To be considered for a Plains Commerce Bank scholarship, the student must plan to attend a South Dakota college, university, or vocational school on a full-time basis. The scholarship is also based upon the individual's activities, community involvement, character, and financial need. Additionally, the student and/or their parents must be a current customer of the bank.
As the applications came in to the local branches, the selection committees were amazed by the intelligence and talent of each candidate. Plains Commerce Bank is lucky to have such bright, inspiring, and involved young customers. Below are a few examples as to why the aforementioned statement holds true.
"I plan on attending South Dakota State University while majoring in animal science. With this degree, I plan to either further my education or to land a job dealing with animal production. The scholarship will help me reach my future goals. Thank you Plains Commerce Bank for helping me reach my goals." - Shaye Jungwirth, Hoven High School Graduate.
"It is my goal to obtain a degree in horticulture from South Dakota State University after which my great desire is to work on the mission field for an organization such as ECHO. ECHO's goal is to help underdeveloped countries grow their own food. Winning this scholarship means a step toward the immediate continuation of my goals for my life and will not only affect the next several years but the next several decades." – Amanda Williams, Aberdeen Christian High School Graduate
"I plan on going to South Dakota School of Mines and Technology to complete my bachelor's degree in computer engineering and minor in computer science or robotics. After completing my bachelor's degree I would like to get by master's in computer engineering. My dream would be to work for a company such as Intel or HP designing computer systems." – Tara Gascoigne, Warner High School Graduate
Plains Commerce bank salutes all scholarship applicants and winners for their hard work and dedication and wishes the best for all post-secondary endeavors.