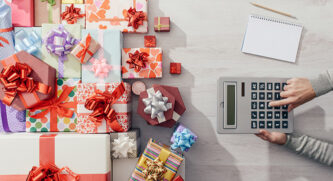 Believe it or not, the holidays are right around the corner. There's no better time than now to make sure your finances are in order. We've come up with five ways to help you tidy up your finances before the holidays.
1. Check Your Balance
Checking your balance may seem obvious, but it often goes overlooked. You're less likely to overspend if you know how much is in your account. Ensure charges are accurate by checking your account once or twice a week—the more familiar you are, the better. Also, don't forget to raise a flag and contact your banker if you see suspicious activity on your account.
The Plains Commerce Bank app makes it easy to check your balance from anywhere, any time. Whether you're at home or out in the field, the mobile app is a quick and secure way to check your balance and provide you that extra peace of mind.
2. Automate Bill Payments
Say goodbye to paper bills and checks, and never forget to pay your monthly statements again with automatic payments. You can use Online Bill Pay through Plains Commerce Bank or through your service provider (phone company, mortgage company, etc.). Once you set up automatic bill payments, late payments will become a thing of the past. Paying on time will give your credit score a boost—automating your bills helps you do just that.
3. Make a Budget
Create a budget and stay on track—it's easier said than done. With these tips, it is possible!
Analyze past spending: Organize into expenses that must be paid (non-discretionary) and other items you can choose to spend money on (discretionary).
Set goals and cut non-essential spending: Answer the question "Why are you budgeting in the first place?" With the holidays fast approaching, gifts are a common answer. Now it's time to prioritize discretionary spending and decide what costs can be reduced.
Explore budgeting tools: Find a tool or app to help you stay on track with your finances. There are many online resources that put together courses and materials to help you meet your budgeting goals.
Re-evaluate your budget and celebrate successes: Review your monthly spending and continue to re-evaluate every three to six months.
4. Get Organized
Save yourself time and added stress by making a list of gifts and year-end contributions before the holidays. For monetary donations, the IRS states you must have a bank record or a written statement from the charity in order to deduct any donation of money, no matter the amount. For household items (furniture, furnishings, electronics, appliances, and linens), donors must get a written acknowledgment from the charity for all gifts worth $250 or more. A description of the items must be included, as well. Please consult with your appropriate advisor on all matters pertaining to tax requirements.
5. Plan Ahead
So what happens when the holidays have come and gone? It's time to start planning for next year! Open a secondary checking account with Plains Commerce Bank and start saving each month for the 2019 holidays. According to the National Retail Federation, Americans spent an average of $967 on holiday-related items last year. That number is only expected to increase this year. If you start saving a little each month now, you'll have next year's holiday gifts covered in no time. A little goes a long way!