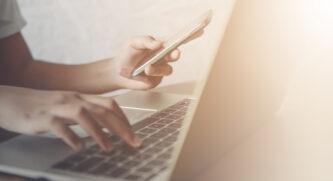 With the holiday season upon us, it can be quite tempting to snatch up deals online. With cybercriminals ever present in this online landscape, here are a few precautions you can take to keep your personal information safe this holiday shopping season:
Antivirus software: While antivirus software will not protect you from all threats, it can help reduce your risk of becoming infected with malware or even possibly ransomware.
Secure Connections: When shopping online try to make sure that the site you are shopping on is utilizing the https:// protocol as opposed to the http://. Also check for the padlock symbol and make sure it is in a locked position.
Unfamiliar companies: Beware of companies that you are unfamiliar with. As a safe practice, remember that if it seems too good to be true, it probably is.
Popups: If you enter a site and it is asking for personal information such as credit card information, it is probably not a safe site. If you did not initiate a transaction, a site should not ask for information such as credit card.
Paper trail: Keep a good record of what you purchased and where. Check your credit card statement for any discrepancies and notify your card issuer immediately.
We hope you found this helpful. Remember to stay safe when shopping online and Happy Holidays!