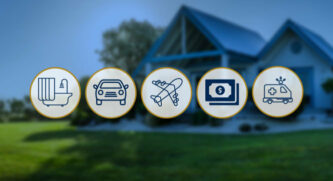 Think of Home Equity Line of Credit—HELOC for short—like a hidden gem. If you own a home, you can use this line of credit in ways you never imagined. It provides the freedom to fund what you want by drawing from your home's equity.
This flexible financing tool is a revolving line of credit, so it works like a credit card. Unlike a loan where you take out one lump sum, a HELOC lets you borrow money on an as-needed basis up to a predetermined limit based on your home's equity. Not to mention, you only pay interest on what you take out.
Unsure of what a HELOC can be used for? We've made a list of five smart ways to use a home equity line of credit.
1. Make Home Improvements
Do you have your sights set on updating your kitchen? How about that dream master suite? Make these visions come to life with a HELOC and increase the resale value of your home.
2. Take a Vacation
You may be able to use the equity you've built up to take a vacation—yes, a vacation! Have you always wanted to take the kids to Disney World, or what about an anniversary vacation? A HELOC can help pave the way to make memories that will last a lifetime.
3. Buy a Car
Are you due for a new vehicle? A HELOC can help you finance a new car and alleviate the financial stress that often comes with such a large purchase.
4. Prepare for the Unexpected
No one wants to have to pay for an unexpected hospital visit, a flooded basement or a new air conditioner in the heat of the summer. However, A HELOC can provide you peace of mind if those things do happen.
5. Make a Big Purchase
If you've always dreamed of exploring the country by RV, a HELOC can help you make your dreams come true. Finance your next big purchase with the equity you've built up in your home.
Unlock your home's potential and learn how a Plains Commerce Bank home equity line of credit today may be right for you.
*All credit and loan products are subject to credit approval.