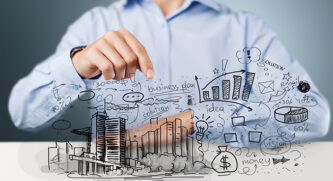 Every once in a while, you may have an immediate need for a big purchase. And like many people, you may turn to a bank for a loan.
Depending on your financial history, you can often find reasonable rates at community banks. But is borrowing money—and borrowing it now—your best option?
At Plains Commerce Bank, we advocate responsible lending. And Retail Banker Justine Waba has 5 things anyone who is thinking about borrowing money should consider.
1. Are you planning for it?
Before you sign a loan, make sure you're planning for the monthly payments. Sit down and budget your time and money. This will ensure you can afford it before you jump into any loan. If adding a $300 a month payment doesn't fit into your budget, you'll overextend yourself. New purchases are not worth the stress of coming up with additional money each month.
2. Can you save for a while?
Put away an estimated payment amount for a minimum of 6 months. If you can afford it and don't touch what you put away, then you'll know you're ready for a loan. This will also give you a nice down payment toward your purchase.
3. Is this a need or a want?
Oftentimes, people make impulse purchases because they see something they want as opposed to something they need. This can get you into financial trouble fast. If it's a want, and time allows, try saving for it first. Don't fall for high-pressure sales. Take ample time when contemplating large purchases. You may also wish to speak with a financial representative before jumping into a loan.
4. Is your job stable?
If you just started a new line of work, you may need to hold off on taking out a loan. Most lenders require you to have at least a year of employment in the same line of work. If you take out a loan and are making more than you were at your previous job, you will still need to budget. Also, remember that no job is ever guaranteed. You will always have a monthly payment, but possibly not a monthly paycheck. Plan for the unexpected.
5. Do you have an emergency fund?
Always ensure you're financially stable when entering into a loan of any amount. Life happens—and additional expenses could mean less money to go toward monthly bills. Having an emergency fund can ensure you stay financially sound if the air conditioner goes out or you need to pay a deductible.
Bottom line—plan ahead. You need be prepared to pay back a loan. Take time to reflect on your own situation. If you're interested in talking about loans, or you have other questions about borrowing money, our team is always here to chat.