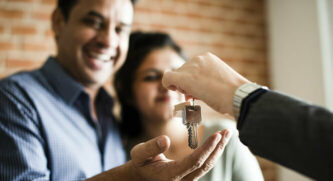 Keep these tips in mind when looking to buy in a seller's market
Housing prices are rising at historic levels so far in 2021. That means it's a great time to sell a home, but buying comes with some added challenges.
The average U.S. home price jumped 10.4% in February 2021 compared to last year—the biggest annual increase in 15 years. Locally, South Dakota home prices surged as much as 17.1% year-over-year in the same time period.1
Demand for housing is vastly outstripping supply. In fact, we're experiencing the lowest level of home inventory in nearly 40 years.2 These conditions are known as a seller's market.
But there are some strong incentives for buyers, too. Mortgage rates are low—averaging around 3.13% nationally in early April—and experts predict they'll remain at or below 3.5% for at least the rest of 2021.2 Low interest rates mean it's a good time to borrow money for your home purchase, driving even more buyers into the market.
Let's walk through a few things you should know when looking to buy a home in today's seller's market.
1. Recognize that sellers have the upper hand right now.
Today's housing market is ultra-competitive for home buyers. On average, four buyers are competing for every home sold, up from three at the same time last year.2 If you find a home you're interested in, assume multiple other buyers are interested, too.
It's a good time to compromise on contingencies, seller concessions, specific closing dates, or repairs—things that might make the seller more hesitant to seal the deal. Consider whether any stipulations you have in mind might be worth losing the property over if another potential buyer has a better or "cleaner" offer.
2. Get pre-qualified for your mortgage.
Pre-qualification helps determine how much money you're able to borrow to finance your home purchase. Getting pre-qualified makes shopping easier by helping you focus on the best options within your budget. It also makes your offer stronger, since sellers can be confident, you're able to finance the full amount you offer.
During the pre-qualification process, your lender takes a comprehensive look at your finances—your income, assets, and credit score—to determine what loans you could be approved for, how much you can borrow, and what your interest rate might be. Getting this part of the mortgage process done upfront can help you close on your new home quicker.
We're here to help! Learn more about our mortgage options or get in touch with a mortgage banker today.
3. Be ready to act fast.
As of March 2021, the median time a South Dakota home stays on the market is just 34 days.2 Buyers should be ready to act fast, or they might miss the opportunity to land their dream home.
Be clear about your parameters. If you're buying a home with a partner, spouse, or family, talk with them about your budget, must-haves, and areas where you'd be willing to compromise. Having clear criteria and limits will help with quick decision making when weighing your options in a fast-moving market.
When you find a home you're interested in, get as much information as you can beforehand, like property reports, disclosures, and offer due dates. Being prepared will make the decision-making process easier and faster when the time comes.
4. Make your offer stand out.
High demand gives sellers more choice when fielding offers, which means it's to your advantage to make your first offer a good one. This isn't the time for low-balling, and don't count on having the opportunity to counter-offer, either. For the seller, an offer below asking price may be easy to eliminate from consideration right away.
Consider whether you may be able to make a list price offer (or even slightly above) to beat out the competition. Look at homes listed slightly under your budget to allow some headroom in case you find yourself in a bidding war with other interested buyers.
Add a personal touch with your offer letter—a few words about why you loved the home or how you look forward to tending that flower garden in the backyard. It might not completely seal the deal, but a personal connection can help your offer stand out when multiple others are on the table.
5. Keep your offer simple.
It's also a good idea to consider what offer contingencies you'd be willing to compromise on or eliminate if necessary. Contingencies are additional terms by which you're willing to maintain (or renege) your offer to buy a home. They can complicate the process for the seller and ultimately delay the sale or, in the case where a seller has multiple offers, eliminate your offer from consideration.
Buying a home is exciting, but the process comes with challenges, especially for first-time buyers. By understanding today's market and preparing in advance, you can be confident when purchasing your new dream home.
Learn more about mortgage options from Plains Commerce Bank.
Loans are subject to credit approval.
NMLS# 463950

References
1 CoreLogic via Forbes
2 National Association of Realtors