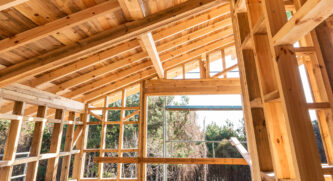 If you've been looking to buy a home, you know how tough the market has become, and you're probably tired of competing for homes and crossing your fingers.
You don't have to keep waiting for a great deal on your dream home. With the right construction loan, you can build the perfect home for your family and your future. There are plenty of reasons to get started on the construction loan process now.
1 - It's less intimidating than you think
Your dedicated Plains Commerce Bank lender aims to do everything they can to help you feel excited throughout your project, not overwhelmed. Your lender will assist with paperwork and logistics so you can focus on paint colors and packing.
We make it simple:
Step 1: Your lender helps you get prequalified for permanent financing.
Step 2: You provide us with building plans and specs for your new home. Your general contractor helps with these.
Step 3: Our team gives you a loan estimate and orders an "as-complete" appraisal to determine the value of your finished home.
Step 4: Approval and closing. Let the building being!
2 - Housing inventory is low
Recent data shows there are about half as many homes currently for sale across the country than there were in 2020. Available homes are selling fast, too, adding even more stress and competition to the process. Buyers have to make fast decisions.
Instead of continuing to wait or settling for a home that doesn't fully meet your needs, consider building your perfect place with the help of a construction loan and a dedicated Plains Commerce Bank lender.
3 - Take advantage of great interest rates
Plains Commerce Bank offers competitive rates. Contact us today to see what you qualify for.
"With rising inflation and the increased cost of building materials we have seen recently, it's more important than ever to choose a lender offering an affordable cost of capital. By extending one of the most competitive rates in the area, we lessen the impact of higher prices, allowing the customer to still build the home of their dreams without sacrifice."

– Skyler Bloch, Mortgage Banker
Good credit and available funds to cover your equity requirement increase your chances of successfully obtaining a loan for new construction.
4 - You could get a loan to cover up to 80%* of the project cost
Using a loan-to-value ratio, Plains Commerce Bank offers loans that cover up to 80% of your total project cost (including the land). Because funds are advanced in stages as the home is built, you only pay interest on the money you have borrowed to date, rather than on the full loan amount.
5 - You have a local expert waiting to help
Our expert team of mortgage professionals can't wait to help you get started on your construction journey.
With consistent communication from ground-breaking to moving day, your dedicated banker is with you through the whole process, ready to answer any questions that come up.
Take the first step toward creating the house of your dreams. Talk to us about construction loans today.
*All credit and loan products are subject to credit approval.