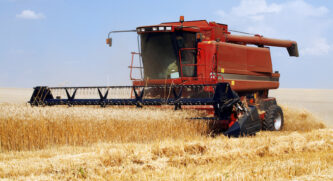 The good news for farmers looking to buy land: the agricultural real estate market seems to be stabilizing, according to Farmers National Company, the nation's largest landowner services company. While land values are steady overall, other prominent land trends are emerging as well.
#1: Stable land prices, but still high
In some cases, the price tag on farmland has dropped compared to the last couple years, but not by much.
"While lower grade land has seen drops in value near 15 percent from recent highs, top quality crop and grazing land still bring solid prices as investors seek to expand their operations with the most productive land," said Randy Dickhut, AFM, VP of Real Estate Operations at Farmers National Company.
If you're looking to invest in farmland, you'll want to pay attention to quality. It will affect the initial price, and the return on investment and crop yields you can expect. So what can you expect to pay for acreage in this neck of the woods? In North Dakota, top quality land has gone for $7,200 per acre. In South Dakota, the same top quality land has had an astonishing $8,100 price tag, according to Farm and Ranch Guide. That's almost double the price of good quality land selling for $4,000 to $6,000 per acre.
#2: Land auctions are dying
Well, not entirely. More land is being privately listed versus publicly auctioned in North Dakota and eastern South Dakota according to Terry Longtin, Farmers National Company VP and Area Sales Manager of Grand Forks, N.D., quoted in Farm and Ranch Guide.
The decrease in public auctions has also contributed to decreasing land prices in areas, according to Farm & Ranch Guide. This is a desirable trend for buyers looking to save a few bucks, as prices are negotiated behind the scenes; but you should be prepared to purchase in either market.
#3: Low commodity prices
When commodity prices—the price farmers receive for their raw goods—drops, typically farmland prices follow. Despite falling commodity prices in eastern South Dakota and neighboring regions, the price for land has remained steady in most instances.
"Our region's agricultural economy may be a bit weaker than other regions due to lower commodity prices, ...railroad transportation issues, and average production levels in 2014," said Longtin. "Overall though, sellers are still seeing historically high [farmland] price levels."
What's causing this trend reversal? Land investors are being smart about their purchase timing. They are taking current lower commodity prices into consideration along with long-term ag land outlook. And long-term ag land outlook remains high. Farmers National Company reports that 2015 grain harvests are expected to reach record levels. And land values, while leveling, are predicted to remain high in the long run.
What's the bottom line?
In the end, trends will vary by area demand, land fertility, and external factors, such as commodity prices. However, farmers looking to buy should remember that good farmland is a long-term investment that may help expand their output. Land prices will likely stay on the higher end, but without a lot of price variance and fluctuation. Anticipate changes in how you purchase the land, but top quality land will still net a top quality price.
Resources: