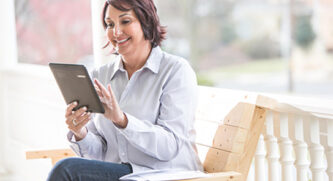 Nearly 60 million Americans were affected by identity theft in 2018, we don't want you to be one of them. Here are some simple tips to help protect yourself against these fraudsters and scam artists.
1. Spot imposters. Scammers often pretend to be someone you trust, like a government official, a family member, a charity, or a company you do business with. Don't send money or give out personal information in response to an unexpected request — whether it comes as a text, a phone call, or an email.
2. Check your account activity regularly. This may be the single most effective strategy you can employ to secure your finances. Report any discrepancies to your financial institution immediately.
3. Keep your PIN and passwords secret. Guard them with vigilance. Do not give them out to anyone, and never write them down on paper.
4. Do not give out account info over the phone. You should be automatically suspicious of unexpected calls. If you have any doubts about the caller, hang up and call your bank directly.
5. Report lost cards immediately. Act fast and prevent fraud before it can happen. Don't procrastinate. As soon as you realize your card is missing, call the bank and have them send you a new one.
6. Don't pay upfront for a promise. Someone might ask you to pay in advance for things like debt relief, credit and loan offers, mortgage assistance, or a job. They might even say you've won a prize, but first you have to pay taxes or fees. If you do, they will probably take the money and disappear.
7. Don't deposit a check and wire money back. By law, banks must make funds from deposited checks available within days, but uncovering a fake check can take weeks. If a check you deposit turns out to be a fake, you're responsible for repaying the bank.
8. Don't believe your caller ID. Technology makes it easy for scammers to fake caller ID information, so the name and number you see aren't always real. If someone calls asking for money or personal information, hang up. If you think the caller might be telling the truth, call back to a number you know is genuine.
9. Consider how you pay. Credit cards have significant fraud protection built in, but some payment methods don't. Wiring money through services like Western Union© or MoneyGram© is risky because it's nearly impossible to get your money back. That's also true for reloadable cards (like MoneyPak or Reloadit™) and gift cards (like iTunes® or Google Play™). Government offices and honest companies won't require you to use these payment methods.
10. Talk to someone. Before you give up your money or personal information, talk to someone you trust. Con artists want you to make decisions in a hurry. They might even threaten you. Slow down, check out the story, do an online search, consult an expert — or just tell a friend.
11. Use a strong password for online banking. Do not use your birthday, your spouse's name, your kid's name, your social security number, your address or anything so painfully obvious. Always use a capital letter or two along with a few numbers. An example of a bad password would be "sarah." An example of a good password would be "12MarinersRevenge56." And please, never set the word "password" as your password.
12. Change passwords periodically. Get a new password every few months or so. That way, if you've had to give someone else your password or for some reason made a physical record of it, you will reset your chances of being hacked.
Sources:
https://www.lifelock.com/learn...