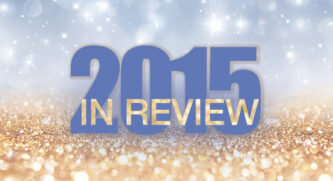 2015 was a great year to be a part of the Plains Commerce Bank family. Not only did we welcome some new faces and make some new friends, but we also had the privilege of watching many of our loyal customers find financial success. And that is exactly why we come to work every day.
Our customer's financial freedom is worthy of a celebration. And boy was 2015 filled with things to celebrate!
Here are the top ten things we celebrated in 2015:
Seven great communities and countless causes worth supporting - Our roots run deep in the heart of the Dakotas. These small towns and rolling plains are home to sound relationships that have contributed to a successful 2015. This year, we reached out to our communities to give back by supporting local organizations and volunteering in our hometowns.
Being named to the top 100 best community banks in the United States - With our local communities playing an integral roll in our continued growth and success, Plains Commerce Bank was proud to be named as a top community bank in the U.S.
Exceptionally studious graduates -Our studious customers were definitely a cause of celebration this spring. With many of our loyal customers headed off to college this fall (or sending their children off to college), we awarded $6,500 in scholarships this year.
The ability to deposit a check from your cell phone - We love our customers. That's why we brought the bank to them. 2015 brought the ability to use our new mobile deposit feature to deposit a check from the convenience of your mobile device, allowing us to better serve you.
A rigorous (and rewarding) trip to Hell - Our staff is important to us, which is why we care for their health. Each year we host a fitness challenge to encourage a healthy lifestyle in our employees. This year, nearly 60% of our staff made the trip to Hell, Grand Cayman and we think that's an adventure worth celebrating.
Our dedicated team of experts - We take pride in the longevity of not only our customer relationships, but also our employee commitment. With members of our staff having worked here 40+ years, we are pretty proud of the dedicated people we employ.
The beginning and expansions of our customers' businesses - Our customers' success is the reason we offer our services every day. 2015 has allowed us to see many new customers develop beneficial financial relationships and many existing customers find the success to expand their current operations. (The economic growth of our local communities is an added bonus!)
Appreciative families financing their dream homes - Our mortgage team has a passion for helping customers find the best financing plan to fit their home buying budget, and that's something that our customers love. They've told us so by nominating us a local best in Sioux Falls. Thanks for the love, friends.
New faces in new places - 2015 was a year of growth for many of our customers, and for our bank as well. We had the opportunity to grow our team and expand our reach across the Dakotas. We are excited to celebrate the fact that we now offer full-service financial solutions in the Mitchell, SD area, as our loan production office is now a full-service bank.
Having the best customers in the Dakotas - And finally, the best celebration of all: you. We are lucky to have committed (and appreciative) customers at all of our locations. Thanks for choosing Plains Commerce Bank and here's to a successful 2016!