Do The Mortgage Math
Which is better: A 15-year mortgage or 30-year mortgage?
Unfortunately, there is no "one size fits all" home loan, so the answer to this question is dependent on your home financing goals.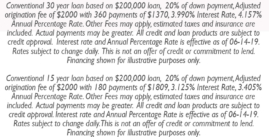 Determining which home loan is right for you requires doing a little homework. Often times, buyers commit to a 30-year when they'd rather pay off their loan in half the time (and save money on interest).
Our bankers often find that putting some extra cash towards your loan each month could save you thousands of dollars at loan payoff when you choose a 15-year mortgage.
Don't believe us? Check out this example.
Need a Mortgage Math tutor?
We're happy to run the numbers and help you calculate which option is best for you. Give us a call today at 605.330.0133 or complete the form below and one of our mortgage experts will reach out to answer any questions.