Tyler Schulte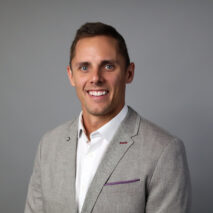 Tyler Schulte
Mortgage Banker
Meet Tyler Schulte. Although he was born in Aberdeen, Tyler has called Sioux Falls home for most of his life. After graduating from O'Gorman High School, Tyler was able to continue his education and athletic career at Augustana University.
After college, Tyler went to work for a major healthcare organization for nearly a decade before starting at Plains Commerce Bank in August 2020. Having most of his family in the Midwest, but former teammates and friends spread across the country, he is most excited to help as many of them realize their dream of owning their own home no matter where they are located and what their story is.
"Coming to Plains Commerce has been one of the best choices I have made," Tyler says. "I have seen so many lives changed for the better. I cannot wait to continue to be a part of that going forward!"
Tyler loves spending time with his family and friends, whether that be playing sports or chasing around his pup, Dallas, or his nieces and nephews.
Apply

with Tyler
Meet

with Tyler
Fax
(605) 330-0129‍