McKayla Buechler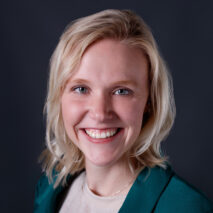 McKayla Buechler
Ag Business banker
Meet McKayla Buechler. Born and raised on a small grain and cattle farm in central South Dakota, McKayla knows what it's like to live and breathe agriculture. With a degree from South Dakota State University in Agriculture Systems, McKayla began her career as an ag lender in 2018.
In the summer of 2022, McKayla and her family moved back to her family's farm to get back to their roots, joining the Plains Commerce team in Mitchell. She enjoys being back in the area while having that big town-small town feel.
"My favorite part of being an ag lender is strengthening relationships with customers and growing relationships with potential customers, whether that be just 'talking farm' or helping them succeed with their financial goals."
When McKayla is not at the bank, she enjoys spending her time with her family hunting, fishing, helping on the farm, or just enjoying time outdoors.
Fax
605.996.3313‍