Jill Luque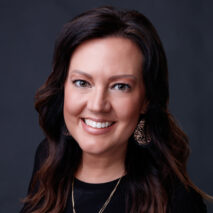 Jill Luque
Market President
Meet Jill Luque. Jill has worked in a multitude of areas within the banking industry over the past 17 years. From Product Development, to Personal Banking, to Marketing, and now to her current role in as Market President. And as a 2018 graduate of the Graduate School of Banking in Colorado, Jill brings a wealth of knowledge to several different areas within Plains Commerce Bank.
Providing an exceptional customer experience from the minute a customer calls, visits the bank's website, or walks through their local branch doors is what Jill enjoys most about banking.
"At Plains Commerce, we exemplify relationship-based banking in all areas which allows our customers to share their 'big-live moments' with our bankers and staff turned friends. We are blessed to have an amazing team of Retail, Ag-Business, and Commercial bankers in our branches! No one works harder for our customers than our team of Plains Commerce bankers and behind the scenes support staff," remarks Jill.
Jill believes in the philosophy of Plains Commerce Bank: creating banking relationships to help customers and communities grow.
Jill and her family love being part of the community. "Mitchell is full of opportunity! From industry, tourism, post-secondary education, healthcare, and hospitality/retail- we really have it all here in Mitchell! My whole family looks forward to being involved in this dynamic, growing, wonderful community!"
Fax
(605) 996-3313‍