Cory Marek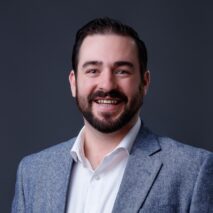 Cory Marek
Mortgage Banker
Meet Cory Marek. A lifelong Michellite, Cory has a passion for the community and helping customers find their dream home. He is a graduate of Mitchell High School and Dakota Wesleyan University, in the field of Math and Business. Being an athlete and a coach has helped him coach his clients through the entire mortgage process—from loan origination through closing—while providing exceptional and memorable service for everyone.
He is committed to providing innovative mortgage solutions in today's highly competitive market. He specializes in conventional loans, Veterans Administration (VA), Federal Housing Authority (FHA), first-time homebuyer programs, and rural development loans.
When not at the bank, you can find Cory spending time with his family. He and his wife Destiny have two daughters, Lydia and Quinn. Cory enjoys playing hockey, baseball, and golf.
The financial aspects of home buying can be complicated and overwhelming—but they don't have to be, not with a trained and caring professional in your corner.
Contact Cory today to get started!
Apply

with Cory