Chris Vinson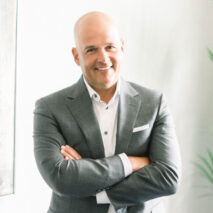 Chris Vinson
Chief Executive Officer of Mortgage Division
Meet Chris Vinson. Chris Vinson is the mastermind behind the Mortgage Division at Plains Commerce Bank. From humble beginnings in 2001 to coaching mortgage professionals across the country, Chris has an undeniable passion to help others succeed. With two decades of experience, Chris has developed a team that produces over 5.6 billion in originations a year, focusing on customer experience and state-of-the art technology.
Having a vision, drive and passion for growing the mortgage industry, Chris, along with his mortgage team, has surpassed 25% regional market share and been voted the Sioux Falls Local Best Mortgage Company for eight years running.
Sharing his success, Chris inspires and coaches his own team of Mortgage Bankers along with CEO's and Loan Originators across the U.S. to ensure his team, along with the clients and community banks they serve have the tools needed to succeed.

Chris lives by this quote; "Success isn't about what you accomplish in your life, it's about what you inspire others to do." - Unknown

Apply

with Chris
Fax
(605) 330-0129‍