Chris Swiden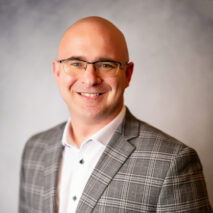 Chris Swiden
Market President
Meet Chris Swiden. Chris has a degree from Black Hills State University and a Masters from Montana State University. He was a teacher and coach for 16 years, and through those experiences he learned a lot about working with people and how to lead a team. It is there that Chris developed the belief to never stop learning. The most important thing that he learned during this time is that people don't care what you have to say until they know you care about them, which holds true in business as well. That's why Plains Commerce Bank's Core Values and the belief that we are Rooted in Relationships resonate so well with him.
In his work as a Mortgage Banker, he loves working with people and helping them achieve their dreams. Whether it's buying a dream home or helping them run their business, every interaction is a chance to make an impact on their lives.
When not at the bank, Chris volunteers at his church and with Junior Achievement. He is married with four kids. When he's not working, he's enjoying the outdoors- golfing, hunting, and fishing—and he's an Eagle Scout, too!