Plains Commerce Cares
We're Still Here to Serve You
At Plains Commerce Bank, our first priority is the health and safety of our customers, our employees, and their families. We are constantly monitoring daily news developments and taking all appropriate precautions while having a detailed plan in place to ensure that we continue serving your financial needs.
Below you'll find important information and resources that may be helpful as we continue to navigate through this challenging time. While our lobbies are temporarily closed as we do our part in fighting this virus, we want you to know that we're still here for you.
We appreciate your continued support and the trust you have placed within us during these times of uncertainty.
- Steve Hageman, CEO
Read The Full Message From Our CEO
Update
June 5, 2020
Paycheck Protection Program
The Congress unanimously passed legislation earlier this week that could ease restrictions on how businesses are able to use their funds received from the PPP hoping to make loan forgiveness more accessible.

While further guidance and clarification from the SBA and Treasury is likely, the Paycheck Protection Program Flexibility Act of 2020 highlights are as follows:
Establishes a minimum maturity of five years for new PPP loans made after the date of enactment (as opposed to the current two-year maturity date)

The borrower and the bank can agree to extend the maturity date to a minimum of 5 years for existing loans

Extends from eight to 24 weeks the amount of time borrowers have to spend PPP funds while remaining eligible for forgiveness

Borrowers are free to still use the 8-week covered period and are not required to change it to 24-weeks

Lowers the amount that must be spent on payroll costs from 75 percent to 60 percent, though there is no forgiveness if payroll is less than 60 percent
Extends to Dec. 31 the period in which employers may rehire or eliminate a reduction in employment, salary, or wages that would otherwise reduce the forgivable loan amount

PPPFA also adds two new exceptions to the existing rehiring exceptions provided by the SBA:

If borrowers cannot find qualified employees for unfilled positions
If the borrower cannot restore its operations to comparable levels of business activity due to social distancing, sanitation requirements or customer safety needs established by the Secretary of Health and Human Services, the Director of the Centers for Disease Control and Prevention, or the Occupational Safety and Health Administration during the period beginning on March 1, 2020, and ending December 31, 2020

Replaces the six-month deferral of payments due under PPP loans with deferral until the date on which the amount of loan forgiveness is remitted to the lender
Eliminates a provision that makes PPP loan recipients who have such indebtedness forgiven ineligible to defer payroll tax payments
For more information on the SBA's Paycheck Protection Program give our Program Specialists a call at 605.740.9402 or email cares@plainscommerce.com

Update
May 15, 2020
Paycheck Protection Program
Loan Forgiveness and Instructions
Loan Forgiveness Application Instructions for Borrowers
The summary of the forgiveness application is as follows:
Options for borrowers to calculate payroll costs using an "alternative payroll covered period" that aligns with borrowers' regular payroll cycles. This is only available for those companies that pay employees at least biweekly.
Flexibility to include eligible payroll and non-payroll expenses paid or incurred during the eight-week period after borrowers received their PPP loan.
Step-by-step instructions on how to perform the calculations required by the CARES Act to confirm eligibility for loan forgiveness.
Statutory exemptions from loan forgiveness reduction based on rehiring by June 30. This will be important for those businesses that let go of employees in March through April.
The new exemption for borrowers whose good-faith, written offers to rehire workers were declined.
Steps Borrowers should take now:
Read the application to understand if the current plan for the business makes sense.
Start gathering supporting documents necessary to be provided with forgiveness application which are outlined on page 10 of the application
If your business has employees you can calculate your average number of FTE's over the February 15, 2019 through June 30, 2019 or January 1, 2020 through February 29, 2020. Average FTE calculation is outlined on page 7 of the forgiveness application.
For more information on the SBA's Paycheck Protection Program give our Program Specialists a call at 605.740.9402!

We're here to help. Please contact your banker for additional information regarding these resources.
Contact Us
To contact us,

Contact Us
Mobile Banking, Drive-Ups & ATMs Are Available
Update
April 27, 2020
Paycheck Protection Program
The U.S. government approved an additional $310 billion in funding for the Paycheck Protection Program (PPP) that is being implemented by the Small Business Administration (SBA).
These uncertain times do not alter our unwavering commitment to all of our customers and our local communities. We continue to work with those experiencing financial hardship by making loans, waiving and refunding fees, postponing payments and doing what we can to support our customers and communities during this challenging time.
Paycheck Protection Program (PPP)
As a vital piece to the COVID-19 stimulus package, the Paycheck Protection Program (PPP)* is set to provide a short-term lending vehicle for any employers to help keep their employees in place in hopes to avoid of avoiding long-term unemployment.
PPP loans may be used for a variety of purposes including:
Payroll costs including benefits
Interest on mortgage obligations, incurred before February 15, 2020
Rent, under lease agreements in force before February 15, 2020
Utilities, for which service began before February 15, 2020
For more information on the SBA's Paycheck Protection Program give our Program Specialists a call at 605.740.9402!
Call Our Paycheck Protection Program Specialists Today!
Email your completed PPP application and supporting documents
Paycheck Protection Program Details
Paycheck Protection Application
i Spy with Plains Commerce Bank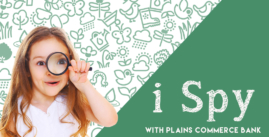 Choose one or choose all! i Spy is a great boredom buster, rainy day activity, or something to keep your kids occupied for five minutes while you check and respond to emails!



Family Scavenger Hunt-Now Available!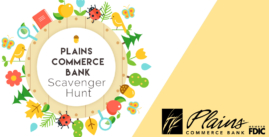 Great weather is finally here and hopefully to stay. Families everywhere are heading outside to explore and soak up the sunshine. What better time for some good, outdoor family fun.
Try out these fun scavenger hunts with your family!

Plains Commerce Bank Children's Activity Book-Now Available!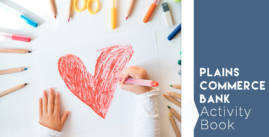 As many children are displaced from their normal school routines, many parents are wondering what will the kids do all day?

Our Plains Commerce Cares team has put together an activity booklet just for that! Click to download right here or pick-up at any of our drive-up windows!
Update
March 18, 2020
Temporary Lobby Closure Bank-Wide
As the health and safety of our customers and employees remain our number one priority coupled with the nation-wide effort to help flatten the curve, our lobbies are now closed and accessible by appointment only. Contact your local banker to schedule an appointment.
Watertown South Location Closure
As of Monday, March 30, 2020: Our South Watertown location (920 5th Street SE at the crossing of Highways 212 & 81) will be closed including drive-up services.
Please visit us Uptown at 109 1st Avenue SE. We'll be serving customers via our drive-up Monday through Friday from 7:30am to 5:30pm and Saturday from 9:00am-12:00pm.
Please note that all other drive-up hours will remain unchanged. Visit https://www.plainscommerce.com/locations to locate your nearest drive-up or ATM.
We want to ensure you have access to all the financial services we offer. Account access through our digital and mobile channels is always open-24/7.

In an effort to help lessen the burden during these uncertain times, please note the following:
ATM fees may be refunded for cash withdrawal
Certificates of Deposit (CD) maturing/loan payments may be backdated

Please call with any questions or concerns regarding these fees, maturities or payment options

Loan and accounts will be serviced by appointment

To schedule an appointment or for any loan questions, we urge you to get in touch with your banker

For immediate assistance regarding debit card, ATM, or deposit questions, call 877.227.7548
We appreciate your understanding and will do our absolute best to meet your banking needs.
Supporting Our Communities
We're all in this together and we want to do whatever we can to help our communities. That's why you'll find us frequently grabbing take-out for our employees through what we're calling Lunchin' Locally. Or, you might even be asked to participate in a drive-up challenge if you visit us on a Friday.

Fraud Center & COVID-19 Scam Information
Expand the options below to view information on Coronavirus and COVID-19 scams. This information is provided by the new task force, the Better Business Bureau, and the Federal Trade Commission.
Government Relief Check Scams
Treatment Scams
Supply Scams
Provider Scams
Charity Scams
Phishing Scams
App Scams
Robocall Scams
Investment Scams
Price Gouging Scams
Misinformation & Rumors
FDIC Resources
General COVID-19 Resources
Check out these links for up to date information from the CDC & WHO:
*Subject to qualification.