Watertown 20th Anniversary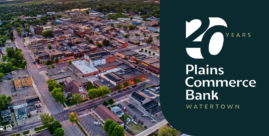 Cheers to 20 Years!
Join us Friday, May 20 to celebrate 20 years in the community of Watertown! We will have treats, beverages, and prizes available 9 a.m. – 4 p.m. You can also celebrate with us by going out and supporting local businesses. We went throughout Watertown and placed $20 Kindness Cash throughout local businesses. We want you to give back to the community by spreading kindness. Use the $20 for yourself, a friend, neighbor or even a stranger in our community.
What is Kindness Cash?
Kindness Cash is a community-focused initiative that allows the community to pay it forward. The Kindness Cash is place throughout the community with cash inside an envelope. If you find the envelope you can treat yourself, a friend, neighbor or even a stranger!
Official Kindness Cash Terms & Conditions: Eligibility: Must be a minimum age of 18 to participate. If you are an employee or staff member of Plains Commerce Bank, you are not eligible. Family members of employees, which includes siblings, parents, significant others, children, grandchildren, or grandparents, are also not eligible to win. Also, people living in the same household or individuals otherwise excluded are not eligible to win. No purchase is necessary to participate. Duration: Kindness cash will be located in/around Watertown, SD within local business beginning at 8:00am CST on May 20, 2022, and will be open until all items are found. How to Participate: To participate in the Plains Commerce Bank Kindness Cash giveaway, you must locate a Kindness Cash card. Prize: There will be twenty (20) $20 bills placed randomly in/around local businesses within Watertown, SD. All federal, state, and local taxes on prize value, if applicable, are the responsibility of the winner. No substitution or transfer of the right to receive a prize is permitted. Prizes are subject to all terms and conditions. All expenses or costs associated with the acceptance or use of the prizes are the responsibility of the winner. Prizes are awarded "as is" and without any warranty, except as required by law. All prize details are at the Sponsor's sole discretion. Limitations of Liability: By participating, each entrant releases and agrees to hold Plains Commerce Bank, the successors of each of the foregoing, and the directors, officers and employees of all of the foregoing, harmless from and against any and all claims and liability arising out of the entrant's participation in the Sweepstakes, the operation of the Sweepstakes, the acceptance or use of a prize or the use of the entrant's name, biographical information and/or likeness as permitted hereunder, including without limitation any and all claims and liabilities (i) relating to any personal injury, death or property damage or loss sustained by any entrant or any other person or (ii) based upon any allegation of violation of the right of privacy or right of publicity, misappropriation or violation of any other personal or proprietary right. Entrants assume all liability for any injury or damage caused, or claimed to be caused, by participation in this Sweepstakes or use or redemption of any prize. Plains Commerce Bank is not responsible for any error in the notification of the offer, administration of the Sweepstakes, or in the announcement of the prize. The sponsor of this sweepstakes is Plains Commerce Bank, 109 1st Ave SE, Watertown, SD 57201.