Notifi
Empowering Our Customers to Take Action with Notifi
We want you to have the power to do your banking anytime, anywhere*. Notifi is an events and alerts solution designed to provide you with real-time alerts about opportunities, exceptions, and confirmations. You'll receive real-time alerts regarding relevant financial events such as a low balance or a suspicious transaction. You have the power to choose your alert style: email, text, a secure online inbox, or push notifications. Notifi allows you to spend less time at the bank and more time doing what you love.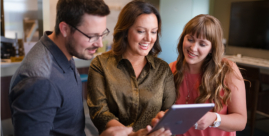 Receive Alerts Anytime, Anywhere. Use Notifi with:
Have questions on how to enroll in Notifi?
Reach out to our team by filling out the form below.
*Wireless/data charges may apply.
Additional terms and conditions may apply.