Michael Gough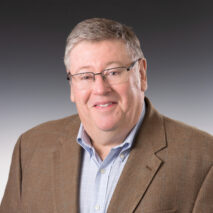 Michael Gough
Chief Credit Officer
Meet Michael Gough. With over 40 years of experience, Michael is skilled at providing exceptional service to the banking community. He began as a trainee and Credit Analyst before becoming a Commercial/Ag Lender. After moving to South Dakota, Michael worked in various banking roles, including Workout Manager, Senior Lender and Chief Credit Officer.
Michael has worked in the Sioux Falls banking community for the last 15 years. His vast experience is vital to Plains Commerce Bank. He knows how to create strong, lasting relationships with customers and provide excellent customer service.
Michael's favorite aspects of banking are his coworkers, being part of a successful organization and training staff on various aspects of credit. He enjoys watching teams grow and evolve.
When not at the bank, Michael enjoys bicycling, reading and golfing. Michael and his wife, Heidie, enjoy spending time with their family and friends. They take particular joy in watching their 5 grandchildren grow.
Fax
(605) 275-2466‍