Isabella Barbee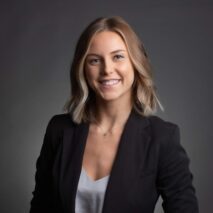 Isabella Barbee
Mortgage Banker
Meet Isabella Barbee. Isabella grew up just outside of Sioux Falls in Hartford, SD. During the pursuit of her Business degree from the University of South Dakota, she was presented the opportunity to complete the remainder of her education in Arizona, California, and Hawaii of which she accepted. After graduation, she worked as an accountant for a large corporation. Her small-town roots brought her back to Sioux Falls to be closer to her family. Her love for accounting and family is what drew her to the mortgage world.
Isabella started out as a loan processor under Dawn Van Nieuwenhuyzen here at Plains Commerce Bank. On this team is where she found the perfect combination of her love for accounting and her compassion to help families. Bella states, "One of the best feelings is helping families achieve the goal of buying their dream home." She prides herself on delivering a smooth, stress-free experience for every family she helps conquer the biggest investment of their future through homeownership.
From the initial application to the closing table, Bella is there every step of the way. She is available to answer questions, run payments, discuss with realtors, and ensure that you are set up in the absolute best loan program for you. Whether you are a first-time homebuyer, ready to purchase your second home, or refinancing to lower your loan term, Bella will treat you and your financing as her own!
Specialties
Program options include conventional loans, Veterans Administration (VA) insured loans, Federal Housing Authority (FHA) insured loans, first-time homebuyer programs, and rural development loans.
Apply

with Isabella
Meet

with Isabella
Fax
(605) 330-0129‍