Ben Eide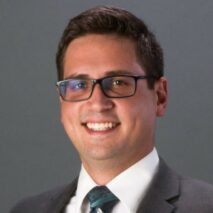 Ben Eide
Branch Manager
Meet Ben Eide. Ben brings not only a wealth of knowledge to Plains Commerce, but also over a decade of experience in community banking. Getting his start within the retail banking department as a teller, Ben has continued to grow in his role leading him to a position as a personal banker and now as the branch manager of our 57th & Sycamore location.
"Whether it's rebuilding credit, buying a new car, or just coming in for a cup of coffee and conversation, the best part of my day is getting to know my customers and helping them achieve their financial goals," remarks Ben.
Ben and his wife, Danielle, have two beautiful children-Pippin and Penny. When not chasing kids around, they enjoy watching Survivor, The Challenge, and football while occasionally reading, playing games, doing puzzles, and golfing.
Fax
605.271.1178‍