Kasasa Rewards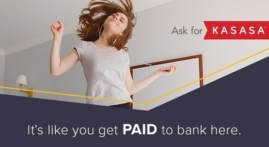 What's Kasasa?
Kasasa® checking rewards you each month for doing simple things you might already do. "Simple" as in banking basics that actually save you time. Like choosing e-statements over traditional paper statements, checking your account information online or through your mobile device, and using your debit card at checkout instead of writing a check.
You choose your rewards: Kasasa Cash rewards you in cash or Kasasa Tunes allows you to download apps, music, and more—on us! Oh, and you can add Kasasa Saver to your Kasasa Cash account to help you save even more.
Plus, did we mention that you will also get nationwide ATM refunds each month that you qualify? Pretty great, right?
Learn more about our Kasasa accounts today, or contact a personal banker to start making money!

Personal Banking Team