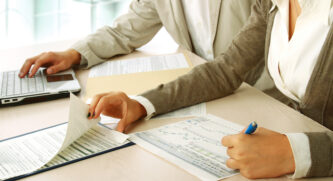 Banks everywhere seem to be advertising low interest rates on mortgage refinancing, so if you own a home, refinancing your mortgage may seem appealing right now. Refinancing can help you save money on interest, lower your monthly house payment, allow you to pay off your mortgage faster, or use cash from your home equity.
Many external economic factors affect mortgage rates. "The better the bond market, the better the interest rates," says Mortgage Banker Jeremy Huber (NMLS #1196575). "Oil prices are marginal, the stock market is unpredictable, and the global economy is not perfect, so the bond market is a safe place for investors' money."
While mortgage rates may not stay low for long, it's important not to rush into a decision.
What do you need to consider when refinancing your mortgage?
Cost to Refinance
If you get a lower interest rate on your mortgage, refinancing may save you money over time. However, there may be fees and costs associated with refinancing. (That is, if you're charged 1 percentage point for refinancing, for example 1%, on a $150,000 loan, you'll pay $1,500 to the lender.) Refinancing costs will vary by lender and state.
Also review your current mortgage terms and conditions before refinancing. Mortgages in some states may have a prepayment penalty. When you refinance, you'll pay off the old mortgage and get a new one. If the terms on your current mortgage don't allow for an early payoff, you could face a prepayment penalty. Again, ask your current lender as this may only apply to conventional loans. Certain government loans do not allow for pre-payment penalties.
It's important to discuss all costs associated with refinancing with your mortgage banker before you sign anything. Over the last few years, many lenders have dropped certain fees associated with refinancing. Others factor refinancing costs into your loan, typically in the form of a higher interest rate or by financing fees with your loan, according to the Federal Reserve.
"I can help structure the refinance to cost little to nothing out of a customer's pocket," says Jeremy. "I have a set of questions I ask up front to come to the customer's main goal. Then I set up a loan that accomplishes that goal." Again, it's important to understand what you're trying to accomplish and weigh the benefits against the costs.
Sometimes you can avoid certain fees by refinancing with the same bank you got your original loan from, according to the Federal Reserve. They will likely want to keep your business. In addition, since they may have current information on you, it could take less effort and less cost for your original bank to process your refinance. But still compare your options.
Financial Status
Refinancing your mortgage is similar to getting any loan. You still have to qualify.
Lenders may look at your employment status, your income and assets, credit score, outstanding debt, how much your home is worth, and more. Refinances may require a home inspection and appraisal, too.
If you're not in a great spot financially, you may end up paying a higher interest rate on your refinance, according to the Federal Reserve.
Future Housing Plans
If you plan on selling your house in the next few years, refinancing may not make sense. That's because you usually hope to make up the costs associated with refinancing over time by paying less in interest. Use a refinancing calculator to determine how long it will take for you to break even and start seeing savings on your mortgage. Also talk with your financial advisor and mortgage banker if you're not planning on staying put for long.
Have more refinancing questions?
The right time to refinance varies depending on your current situation—even if interest rates are great.
It's important to consider your present personal situation even more than current loan rates. It's also important to work with a financial advisor and mortgage banker you can trust. Ask questions and make sure you get the answers you need to make a sound decision.
Whether you're looking to discuss potentially refinancing your house or have general questions, there are many resources you can turn to, including the mortgage bankers at Plains Commerce Bank.
We love to talk about mortgages, and we're happy to talk you through the process. No pressure. Every bank and lender varies as far as fees, interest rates, processes, and recommendations. If you're going to refinance, you just need to find a lender that can help you meet your goals. Again, feel free to get in touch.
All loan programs and products are subject to qualification.