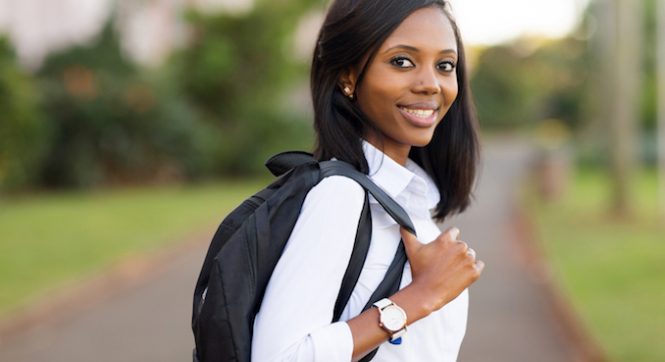 Taking out student loans is a decision that could make a significant impact on your life after college. Hopefully, in the end, you'll have a degree you can use to pursue the career of your dreams! But you'll also have to think about how you're going to pay back your loans if you're not rolling in the dough with your first job. 
Applying for student loans can be a daunting task. Nobody really teaches you about the process or implications unless you spend a lot of time in the school counselor's office. How do you know you're making a good choice? How much will you owe when you're done with school? Why is a co-signer necessary? (What is a co-signer, anyways?) Yes, the financial aid process is fickle, but don't sweat it (too much). With some direction, you'll be on your way to financing a great education. 
Plains Commerce Bank partners with the Student Loan Finance Corporation (SLFC) to help South Dakota students get the financing they need for college through iHELP Loans. SLFC representative Craig Green shares answers to some of the most common questions students have about private loans. 
What's the difference between federal and private student loans?
There are more difference between the two types of loans than you may think. The federal government issues and distributes all federal student loans, whereas banks provide private students loans. To apply for federal student aid, you need to complete a FAFSA. "There is no credit criteria required for federal student loans that are taken out directly by the student (i.e., Federal Direct Stafford loans)," says Craig. For a private student loan, you'll apply through your local bank and likely need a cosigner.  
When do you need a cosigner for a private student loan? 
A cosigner is a person other than you who also signs your loan. If you don't make loan payments when the time comes, the cosigner will end up having to pay your bill. It's best to never let this happen as it can damage both your and your cosigner's credit.
To obtain a private student loan, you need to have a decent credit history. (Enter mom or dad) "In most situations, students don't have the credit history to qualify on their own," says Craig. However, it may be beneficial to have a cosigner even if you do qualify without one. This can help you get a better interest rate, which is important, because the higher the interest rate, the more you'll owe beyond what you borrowed to pay for college. 
"Once the loan enters repayment, iHELP loans offer a cosigner release option if the borrower meets the credit criteria and makes 24 consecutive payments on time," says Craig. This can be a relief for whoever the cosigner is. 
When is it a good time to consider a private student loan? 
Private student loans can be your saving grace when scholarships, grants, savings, and federal financial aid aren't enough to pay for your education. But do consider all other options before taking out a private loan.
What is the process like to get a private student loan? 
While the private student loan process may vary by bank, it should be somewhat similar. At Plains Commerce Bank, both you and your cosigner can apply online. Then, a specialist will get in touch with you to walk you through next steps. It's that easy. 
How do you know how much you qualify for in private student loans?
"The amount you qualify for with a private student loan will be based on what you receive in other financial aid," says Craig. Here's a simple equation to keep in mind:
Cost of Education - (Grants + Scholarships + Federal Aid) = Private Student Loan Amount 
You may never see any portion of this money, as the lender sends it directly to your school. However, in many cases, the school may cut you a check if there is anything left over. "If you get money returned to you, don't spend it on just anything," says Austin Hawkinson, personal banker at Plains Commerce Bank. "Use it for textbooks, essential college costs, or save it so you can take out less the next time you need loans." You pay interest on every dollar borrowed—including potential refund checks. "Make sure you're using it wisely."
How can you avoid borrowing more money for school? 
It's never too late or too early to save for college. 
"Take advantage of scholarship opportunities, start a college savings account, get a part-time job while in college, or see if you are eligible for a federal work study program," says Craig. If you work while in school, set aside money to reduce the amount you take out in loans the following semester.
"If your parents wish to help pay for your education, they can start a college savings plan for you years before your freshman year of college," says Austin. "Or, if college is just around the corner, ask your parents to help pay for textbooks or student loan interest."  
Can you make payments on your student loans while in school? 
In most cases, you're not required to make payments until six months after you're done with school, with some exceptions. "Typically, when a student is in school, their principal and interest payments are deferred (or postponed) for both federal and private loans," says Craig. The principal is the actual amount borrowed and the interest is the money you pay on top of that as a "fee" for borrowing the money. 
Even if you don't have to make loan payments in college, the interest still accrues or builds exponentially. If you or your parents can help make payments on the interest while you are in school, you could save a lot of money on your monthly payments after you graduate.  
Keeping your debt as low as possible is important as you never know what life will be like after you graduate. "Unfortunately, many students aren't rolling in dough post-graduation," says Austin. For example, let's say you're an aspiring journalist. The median starting salary for a student with a BA in Journalism is $40,000. After paying taxes, rent, and other bills, you'll still need enough to pay your student loans each month.  
Why come to Plains Commerce Bank for a student loan? 
Plains Commerce Bank offers the iHELP Private Student Loan from the Student Loan Finance Corporation (SLFC). When you get in touch with us, we help you weigh all your options—just ask! That's because we're a community bank that cares about our customers' financial future.