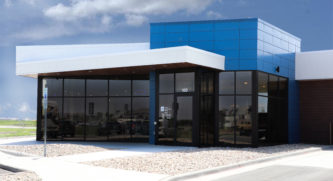 Plains Commerce Bank is opening a third location in southeast Sioux Falls, located at the corner of 57th Street and Sycamore Avenue.
"We are so excited to join the neighborhood. Our goal is to deliver a unique, family-focused atmosphere, and we look forward to serving banking needs of the area and seeing the smiles as the neighborhood families visit the branch," says Sioux Falls Executive Vice President/Branch Manager Jason Appel.
What was the main driver for establishing a presence in southeast Sioux Falls?
Plains Commerce Bank is deeply invested in the city of Sioux Falls, so we're proud to grow our footprint and show externally with brick and mortar the growth we're experiencing internally.
Plains Commerce Bank has recently helped hundreds of families purchase homes in that area. The new southeast location will be near many of the bank's mortgage customers and close to many others living in apartments who could benefit greatly from a banking relationship with Plains Commerce. With more houses and offices expanding to that side of town each month, we are excited to make banking convenient for the individuals who live and work in this area.
What's unique about this specific location?
We had a vision to create a development including other businesses, similar to what the bank currently offers at 49th Street & Louise Avenue. Plains Commerce Bank will be the host of a shared lobby with Flyboy Donuts at our new 57th & Sycamore location.
What makes the relationship between Plains Commerce Bank and Flyboy unique?
Creator and Owner of Flyboy, Ben Duenwald, hails from Hoven, SD—right where Plains Commerce Bank got its start over 80 plus years ago. Life truly has come full circle for Duenwald who opened his first checking account with Plains Commerce as a teen and bought his home with the help of our mortgage team years later.
"As a small-town community bank that started out just a couple of hours northwest of Sioux Falls in Hoven, SD, we are very excited about our newest addition. We feel we can bring genuine relationship-focused banking to the Sioux Falls community, just as we do in our other markets." – Steve Hageman, CEO.
How many employees does this location have?
The new location will open with three employees—Talia, Kendra, and Tamen. They're eager to serve the southeast side of Sioux Falls with a unique banking experience that truly caters to their needs.
Tell us about what services are offered at this location.
Our newest branch offers all of the standard account options you would expect from your bank, as well as a drive-up ATM, drive-through banking, and a local night deposit box. Some new technologies will be unveiled inside the branch as well, so be sure to stop in to see us!
How are these services at Plains Commerce Bank different than what other banks offer?
Our goal is to make banking easy. From early morning hours to opening our lobby on Saturdays, your convenience is our priority. We hope you'll feel welcome to swing by, grab a cup of coffee and delicious donut, and chat with your banker at any point in your day. We are happy to have a casual conversation on how your bank can work better for you.
How does someone make the switch to Plains Commerce Bank?
At Plains Commerce Bank, we make it simple to open an account—and we'll help you every step of the way. Talk to one of our bankers in branch, online, or at 605-275-2467 to get started today.
When does this location open and what are the hours?
Our lobby officially opened on June 1. We will be open from 7:30 am to 4 pm on Monday–Friday and 9 am to Noon on Saturdays. Our drive-up is open from 7:30 am to 6 pm on Monday–Friday and 9 am to Noon on Saturdays.
Who do I contact if I have questions?
Our banking team loves to help! Give Tamen a call at 605-740-9442.