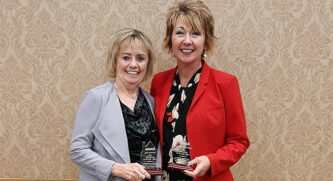 The South Dakota Housing Development Authority (SDHDA) recently presented Plains Commerce Bank senior mortgage bankers Julie Brownell of Aberdeen and Shawna Kleinwolterink of Sioux Falls as top loan officers in their respective areas. Loan officers from SDHDA Participating Lenders were divided into seven geographic areas by county population base and the number of SDHDA loans purchased to determine the top producers.
"SDHDA is very proud of its Participating Lenders and the work that they do bringing affordable homeownership opportunities all across the state," said Brent Adney, director of homeownership programs. "Recognizing Shawna & Juile for there efforts is just a small token of our appreciation to their organization and strong commitment to SDHDA products."
The SDHDA Loan Officer Recognition Program is an annual honor designed to recognize those loan officers who consistently promote affordable housing by offering SDHDA programs. All together the seven top loan officers originated $46.4 million in First-time Homebuyer loans during this last year.
Plains Commerce Bank was also again recognized as a top five lending institution within South Dakota.
Julie understands that homeownership is the single most important financial decision that most consumers make in their lifetime. Buying and financing a new home requires an advocate to guide each buyer to a successful outcome and Julie does just that. With over 15 years of experience in the mortgage lending business, Julie hopes to give her buyers the confidence in her knowledge of the industry, expertise in the process, and desire to work tirelessly for all. This is the fifth year that Julie has been awarded with this honor.
Quick to respond and always available, Shawna will be there through the entire home loan process from start to finish. With Plains Commerce Bank able to complete the home-financing process under one roof along with the variety of loan programs offered, Shawna ensures each customer will have a unique experience tailored to their needs. 25 years in the finance industry and over a decade specifically working with home loans-Shawna truly enjoys helping customers with one of the biggest decisions of their lives: home ownership.