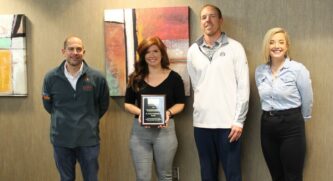 We are excited to share that we were named "Business of the Year" by the Sioux Empire United Way. As a community bank, we're active members of our communities and work hard to give back to the communities we serve. We're so honored to be recognized with this award!
Sioux Falls EVP/Branch Manager Jason Appel shares what this award means to us.
Why is the United Way something Plains Commerce Bank has chosen to support? The United Way has a great network of nonprofits that they partner with. It's a great organization to support, as the funds reach such a vast group of nonprofits servicing a number of different important community needs throughout the Sioux Falls area.
What does this award mean for Plains Commerce Bank? This is certainly an honor for the employees of the bank and a great reflection of who we are as individuals and an organization. This is really driven by the incredible growth of our organization, the generosity of our employees and their desire to have an impact on our local communities.
It is great to see our internal values of caring for one another being displayed publicly through this award, even though we see it and live it internally every day.

Sioux Falls EVP/Branch Manager Jason Appel
How have you grown support through your employees to help the United Way? The bank has been very creative and generous to encourage our employees to donate by allowing up to two days of vacation to incentivize giving. I think this has done a great job of promoting United Way giving within our organization.
How many employees donated to United Way? Over 95% of employees participated this year, which is up 33.8% from last year. We also increased our corporate gift by 33%.
How have Plains Commerce Bank's giving numbers increased over the past few years? In 2015 when we first partnered with United Way, we were able to donate $11,301. This year, as of February 25, we had total employee and corporate giving of $100,371!