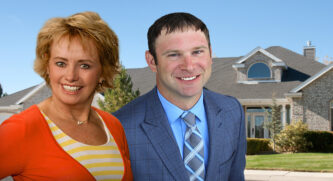 South Dakota Housing Development Authority recently named two Plains Commerce mortgage bankers, Kyle Swiden and Julie Brownell, as top loan officers in South Dakota.

Kyle, a mortgage banker in Sioux Falls, and Julie, an Aberdeen mortgage banker, have helped a combined 203 people to obtain their first home loan in the past twelve months.
The SDHDA Loan Officer Recognition Program is an annual honor designed to recognize loan officers who consistently promote affordable housing by offering SDHDA programs. Loan officers from SDHDA participating lenders were divided into seven geographic areas by county population base and the number of SDHDA loans purchased.
"At SDHDA, loan officers are critical to the success of our programs," said Brent Adney, SDHDA director of homeownership programs. "Recognizing Kyle and Julie is a small token of our appreciation for all the work they do for this organization and their strong commitment to providing affordable homeownership opportunities for South Dakotans."
Kyle and Julie were selected from over 500 loan officers in South Dakota and were honored at the SDHDA's 28th Annual Housing Conference in Pierre, SD on October 30-31.
In addition, Plains Commerce Bank was also again recognized as one of the top five lending institutions within the state.

Plains Commerce Bank is proud to help make home ownership possible in South Dakota and beyond. If you are looking to take the next step toward getting your first home, we're happy to help.

We know buying your first home can be overwhelming, so we've gathered some quick advice from our mortgage experts to help.
Get Started