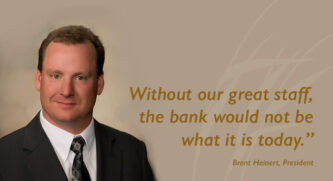 On a warm June day in 1994, Brent Heinert began his first day at Plains Commerce Bank. Little did he know that he would one day be the president of the company. 
Brent began as a loan officer in Hoven, SD dealing mostly with agricultural loans. The financial institution then operated as Bank of Hoven, but from these small-town beginnings came extensive growth for the bank, and for Brent.
In January 2001, Brent was promoted to branch manager of the Hoven office. Also in 2001, the bank purchased and merged with Peoples Bank of Aberdeen and Conde. "It was exciting to be a part of that acquisition," said Brent. "In 2003, after totally remodeling the first floor of our existing credit card department in Hoven, we relocated two doors down. It was very exciting to oversee that project and to move into the 'new' bank."
Brent served as a branch manager and loan officer in Hoven until May 2008, when he was promoted to president. Brent and his wife, Brenda, then moved from Hoven to Aberdeen with their three children; Jake, Erynn and Will.
"It was a very exciting but stressful time," says Brent. "I decided to add to my stress by building a new house that same year."
Reflecting on two decades with Plains Commerce Bank, Brent says, "It has been very exciting to see the bank grow from a small town bank in Hoven into the $500 million, multi-location bank that it is today. There have been many changes in banking over the years, mostly due to technology, regulation and competition, but the bank has always adapted to those changes and remained profitable, while continuing to grow at the same time."
"We are not done yet. I am looking forward to continued growth and profitability for years to come," Brent says optimistically. "I am very thankful for the opportunities the bank has given me and I look forward to the future. I am also very thankful for all the employees of Plains Commerce Bank. Without our great staff, the bank would not be what it is today!"