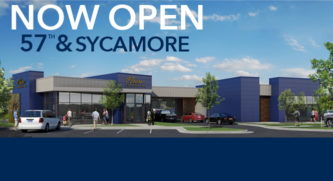 (Sioux Falls, SD) – Plains Commerce Bank CEO Steve Hageman announces the opening of the bank's newest location in Southeast Sioux Falls, located at the corner of 57th Street and Sycamore Avenue. The branch is fully operational as of June 1, 2020 and is the third Sioux Falls location for this Dakota-based financial institution.
"As a small-town community bank that started out just a couple of hours northwest of Sioux Falls in Hoven, SD, we are very excited about our newest addition." remarks Hageman. "We feel we can bring genuine relationship-focused banking to the Sioux Falls community, just as we do in our other markets."
Sioux Falls Executive Vice President/Branch Manager, Jason Appel, sought out a specific retailer even before the bank purchased the 1.25 acres of land. Appel had a vision with plans to create a development including other businesses, similar to what the bank currently offers at 49th Street and Louise Avenue. The bank will be the host of a shared lobby with Flyboy Donuts. Creator and Owner of Flyboy, Ben Duenwald, hails from Hoven, SD-right where Plains Commerce Bank got its start over 80 plus years ago. Life truly has come full circle for Duenwald who opened his first checking account with Plains Commerce as a teen.
"We're excited we continue to see growth and continue to add staff," says Sioux Falls Executive Vice President/Branch Manager Jason Appel. "We are deeply invested in the city of Sioux Falls, so we're proud to grow our footprint and show externally with brick and mortar what we're experiencing internally as far as growth goes."
With a long-standing history as a community bank, Plains Commerce continues to grow and currently serves the following communities: Aberdeen, Conde, Hoven, Mitchell, Sioux Falls and Watertown, South Dakota and Bismarck, North Dakota.
Plains Commerce Bank is a community bank dedicated to providing its customers with quality service and products by linking the values of the past with the ideas and technology of the future.