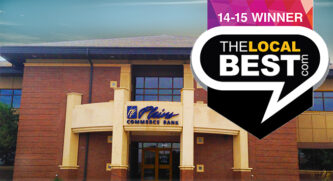 Plains Commerce Bank has again been named a Sioux Falls Local Best in the category of Mortgage & Real Estate Loans. With 16 mortgage bankers in the 49th street location alone, the team has developed an outstanding rapport with homeowners and real estate professionals alike.
"We had no idea what all went into a mortgage when we started looking at houses," said first-time homebuyers Tigh and Kelly Leibel. "Our loan officer was incredibly knowledgeable and explained everything in terms we could understand from start to finish. We were shown every option for purchasing our home and the staff took the time to answer all of our questions until we decided on the loan that was right for us."
Like Tigh and Kelly, Cindy Foos found herself impressed with her experience at Plains Commerce Bank. "I have purchased five homes in my lifetime. This is the first time I have had a professional, friendly mortgage banker," says Cindy.
Chris Vinson, executive vice president / branch manager for the mortgage department, is proud of his team and the relationships they are able to establish. "It's humbling to receive this award because it's voted on by consumers. Our customers mean everything to us; not just during the transaction, but even after loans are closed," says Chris. "We put a lot of time and effort in to making sure we are constantly in communication with our customer, because we truly feel that each customer deserves the best home-financing experience."