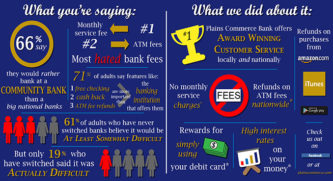 The future of banking is changing and Plains Commerce Bank is adapting to meet customer needs. Today's customers want the convenience and rewards offered by mega banks, but they still expect the personal, face-to-face service offered by community banks. Already an award winning community financial institution that excels in customer service, Plains Commerce Bank is bolstering the value of the products it offers its customers. Jason Appel, Sioux Falls Branch Manager, explains, "We're partnering with Kasasa® to bring unprecedented value to our customers and it's a game changer."
Kasasa is a national brand that partners exclusively with community financial institutions like Plains Commerce to offer their customers the most innovative checking accounts on the market. Kasasa puts customers first by simply rewarding them for using their accounts. Kasasa and Plains Commerce Bank recognize what customers want: 66% of Americans prefer to bank at a community bank rather than a big national bank, but 71% of Americans hold that features such as free checking and ATM fee refunds are more important than the bank that offers them.
As a result, Plains Commerce Bank now offers Kasasa checking accounts with no monthly service charges, which were rated as the number one most hated bank charge. Other features offered include giving customers cash rewards every month from higher interest rates or refunds on purchases from Amazon®, iTunes®, and Google Play®. On top of that, Plains Commerce also gives refunds on ATM fees nationwide. All of these features are offered without having to sacrifice the personal service from the local experts at Plains Commerce Bank.
"People assume that you either have to choose the great customer service that community banks offer or the rewards and convenience of the big banks, but with Kasasa, Plains Commerce Bank now offers award winning service teamed with products that match the big banks. There's no trade off, you tangibly get the best of both worlds at Plains Commerce Bank," Appel concluded.
Paige Schwitters, a 22-year-old Plains Commerce Bank customer, agrees, "I love that I'll have the perks of a big bank without having to sacrifice any service!"
If you'd like to find out more about how you can earn cash rewards for simply using your checking or savings account contact Plains Commerce Bank at 605-275-2467 or stop in the branch nearest you.