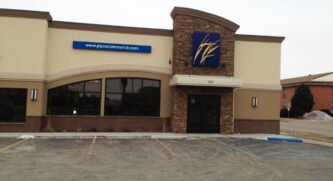 At Plains Commerce Bank, our employees take pride in knowing each customer by name. We believe that relationship-based banking has played a major role in the bank's success.
This Dakota-based bank first opened in Hoven, South Dakota, over 80 years ago. It has grown from its roots as a small-town community bank to larger markets in South Dakota such as Aberdeen and Sioux Falls. These expansions, however, have not changed our focus on customer relationships.
"Much of our board of directors has been with us from the beginning," said Steve Morris, branch manager of the Bismarck location. "As a leadership team, they genuinely care about our customers and helping them grow financially. We strive to be that bank that knows the history behind the customer, and many of them have been with us since they were teenagers with their first jobs."
"Our board of directors and chief executive officer are all involved in every operation of the bank," Morris said. "Meeting on a monthly basis, they gather to discuss the industry as a whole, market trends, and any new opportunities that may present themselves. Furthermore, they are extremely proactive in keeping current with technology. Across the board, the staff feels comfortable going directly to the board members or CEO with questions or concerns; it's great working for a company that not only values their customers, but their employees, too."
In early 2013, Plains Commerce Bank opened a loan production office in Bismarck, offering a variety of mortgage programs suitable to customers varying needs. The bank recently brought a full range of services to Bismarck, offering personal and business banking, as well as ag business loans.
"We're not trying to be a big bank," Morris said. "As a small-town community bank, we're working to keep customer relationships a priority while servicing their ever-changing banking needs. It's encouraging to see how we're helping our customers grow financially."
Buying your first home can seem intimidating. Kelly and Tigh were ready to buy their first home, but they were quickly overwhelmed with questions on how to finance such an investment. That's when they turned to the home loan experts at Plains Commerce Bank. "We had no idea what all went into a mortgage when we started looking at houses. Our loan officer was incredibly knowledgeable and explained everything in terms we could understand from start to finish. We were shown every option for purchasing our home and the staff took the time to answer all of our questions until we decided on the loan that was right for us," said Kelly.
Plains Commerce Bank encourages its mortgage officers to check up on customers, even weeks after the home loan closes, Morris said.
That personal touch can be found in all of the Plains Commerce Bank branches. When Harvey Remily walks through the door of his local Plains Commerce Bank, the entire staff greets him. With a smile from ear-to-ear, Harvey banters with the employees, deposits his check and heads back out the door to his small, local business. When asked about his experience with Plains Commerce Bank, he said, "I've banked here for 30 years now. Many things have changed over the years, but one thing has not: the commitment my bank has towards me and my business."
That commitment extends to all types of businesses. Josh Weigel has been farming for 12 years. Born and raised on the family farm, he knew there was nowhere else he would rather raise cattle, crops and his family. He has worked with Lance Vilhauer, a business banker at Plains Commerce Bank in Aberdeen, South Dakota, since early 2012, because Vilhauer understands his operation.
"It has been my pleasure to assist Josh in securing real estate and livestock opportunities. Being able to structure their finances in a well-thought-out plan ensures this operation is on the road to success for many years to come," Vilhauer said.
The staff at all branches of Plains Commerce Bank has the same attitude. "It's all about the customers who walk through our doors," said Jeff Grobe, branch manager of the Conde location. "Their financial success is the reason we come to work every day."
"We are excited to bring our service-oriented approach to Bismarck," said Morris.