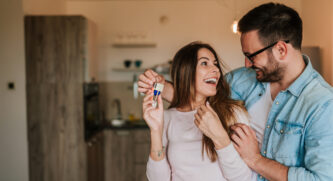 Ready to find your dream home? With mortgage rates continuing at record lows, your timing couldn't be better. We understand that the mortgage process can seem daunting, and that's where we come into play. As your local mortgage experts, we'll be with you each step of the way.
First, let's talk about mortgage rates.
Mortgage rates have been staying at record lows. Mortgage rates fluctuate, but there is no mortgage rate that is "too low," so you don't have to worry if the rate has dropped. A low rate is always a good thing! Lower mortgage rates mean lower monthly payments for you or the option to pay off your loan sooner.
Next, let's discuss the process.
We believe in making the mortgage process as easy as possible. We've outlined seven steps so you know what you can expect.
We want you to feel comfortable as you move forward with your mortgage application process, so we encourage you to ask any questions that you may have. Our experienced team of mortgage professionals has plenty of practice answering questions and addressing concerns.
Purchasing a home is big investment, and we'll do our best to ensure that you feel comfortable and excited as you get ready for your homebuying journey.
Now, let's get started.
We believe in keeping your homebuying journey right where it belongs: at home. That's why all loans are processed right here in the Dakotas, so getting approval1 may be quicker and smoother.
If you're ready to get started, apply with us here. Your home is waiting.
(1) All credit and loan products are subject to credit approval. Loan programs subject to qualification.